Los Angeles News Anchors Feel Lennox Earthquake While On Air
News anchors at CBS Los Angeles felt an earthquake while on air Monday morning.
The station's meteorologist, Amber Lee, news anchor DeMarco Morgan and reporter Lesley Marin were taping a live broadcast when they felt one of the earthquakes reported in the southern California community of Lennox.
"Felt a little bit of a jolt, did you guys feel that?" Lee asked.
"Yeah, that was definitely an earthquake right there. Wow," Morgan responded.
Marin said that "everything is good right now, but if you felt that at home, that was definitely an earthquake."
The channel's Twitter page posted a video of the CBS2 News This Morning segment. Lee later reposted a video of the segment on Twitter with the caption: "Yup, we felt it on air."
The area experienced a series of earthquakes early Monday morning, with the largest a 4.0 magnitude quake centered just a few miles east of the Los Angeles International Airport.
More than 4,800 people reported feeling the 4.0 magnitude earthquake, according to a tracker at the United States Geological Survey (USGS). The scientific agency reported two earlier earthquakes at roughly 4:15 a.m. Pacific time: the first had a magnitude of 3.3 and was followed by one with a magnitude of 2.5.
According to CBS Los Angeles, there had been no immediate reports of damage.
Dr. Lucy Jones, a seismologist, said in a Twitter post that the 4.0 magnitude earthquake "was under Lennox, CA, near Inglewood. Very deep at 20 km, so everyone is at least 20 km away. Would have been felt by most people awake in LA. Movement was thrust, probably not on any mapped fault."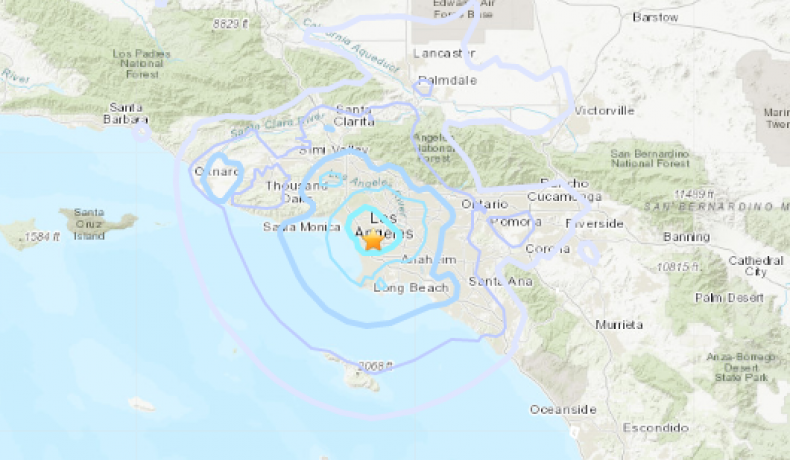 California experienced a 2.6 magnitude earthquake last month that had some people joking that the smaller quake was a "yawn" compared to others. The quake occurred in the Pacoima area, which is in Los Angeles' northern San Fernando Valley area.
One Twitter user said about the Pacoima quake: "2.7 is like slamming a door or dropping books on the floor... yawn...." The post was accompanied with a gif that read, "BORING!"
According to USGS, southern California experiences about 10,000 earthquakes each year, many of which are so small they go unnoticed by residents. The agency said that a couple hundred of the quakes are greater than 3.0 in magnitude, and just 15 to 20 are greater than 4.0.