Los Angeles Official Defends Mask Mandate Even for Vaccinated Residents: 'Much Easier'
A Los Angeles health official is defending the decision to reinstate mask mandates for all residents, even those who are fully vaccinated against the coronavirus.
Los Angeles County, the nation's most populous county, announced Thursday it would be instituting a mask requirement in public spaces starting on Saturday at 11:59 p.m. The order will require masking indoors regardless of vaccination status.
Dr. Muntu Davis, the county's public health officer, said that requiring everyone to follow the guideline is "much easier" as the area seeks to lower transmission.
"Our hope is that with continued vaccination of people, as well as with masking by everyone indoors, which is much easier and universal and makes this a normal practice again, that we won't see continued increases in the cases and we'll start to start to see lower numbers," Davis said at a virtual news conference.
Davis added that the current COVID-19 surge is an "all-hands-on-deck moment" and didn't rule out other restrictions being put into place if things get worse.
On Thursday, Los Angeles reported more than 1,500 cases of the virus—the highest total of new cases since mid-March, according to state health data.
The positivity rate is currently 3.7 percent, a significant spike from the 0.5 percent positivity rate the area had on June 15—the day California's economy fully reopened for the first time since the pandemic began.
As of Thursday, Los Angeles County reported 1.2 million positive cases of COVID-19 and a total of 24,566 deaths.
Roughly 4 million residents are not vaccinated, according to the county's health department. As of July 11, more than 10.7 million doses of the shot had been administered: 5.9 million of which were first doses and 4.7 million second doses.
Among residents 16 and over, nearly 70 percent have received one dose of the vaccine and 61 percent are fully inoculated.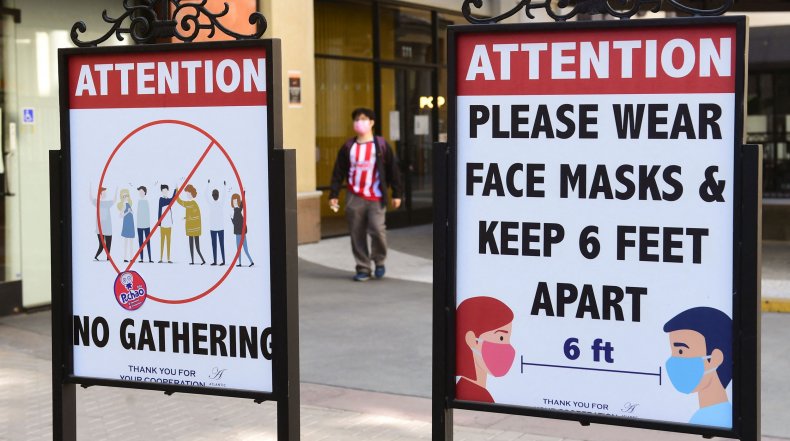 The delta variant has increased its prevalence across the United States in recent weeks, driving a surge in new COVID-19 cases in all 50 states.
Los Angeles County Supervisor Hilda Solis said in a statement Thursday it's clear the Delta variant is "spreading rapidly, overwhelmingly in our unvaccinated communities.
"That is why today we announced that beginning Sunday, we are taking the necessary step of reinstating a mask requirement indoors for all residents, to slow the spread once more and provide more time for people to get vaccinated," Solis said. "This is only a temporary action, until we can lower our cases and continue getting more people the doses they need."
Not all areas in California are following Los Angeles's lead. In a statement on Thursday, San Diego County said it would be following state guidance on masking and "urges those who are unvaccinated to get vaccinated to protect themselves and others from the spread of COVID-19."
California requires unvaccinated residents to wear a face covering in indoor public settings or outdoors when social distancing isn't possible. The state doesn't require vaccinated individuals to wear masks unless in certain settings, such as hospitals and public transportation.