Alleged Anti-Semitic L.A. Man Snatching Jewish Women's Wigs, New York Police Bust Teens in Synagogue Hate Crimes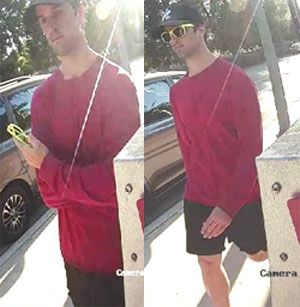 Just over a week after a gunman slaughtered 11 people and wounded many others inside a synagogue in Pittsburgh -- there have been notable anti-Semitic incidents logged by police in both Los Angeles and New York City.
In Los Angeles, at least three Orthodox Jewish women say a man has been yanking their modest wigs from their heads -- the latest took place this week. And in New York City, at least two teens were booked for flipping a Jewish teen's hat from his head, throwing a metal pipe into a synagogue and then injuring a 10-year-old girl when they shoved her to the ground.
The cops are hoping the wig grabbing man, whose likeness was photographed, get nabbed for allegedly targeting the North Hollywood women in Orthodox Jewish neighborhoods and committing battery "because of their religious beliefs," according to a Los Angeles Police Department (LAPD) report.
The alleged suspect struck twice in September on Yom Kippur, the holiest day on the Jewish calendar.
The man, who is believed to be in his mid-20s to early 30s, was seen approaching an 80-year-old woman strolling along Bellaire Avenue and Burbank Blvd, the report states.
As the elderly woman reached Chandler Boulevard she spotted the man trailing her and then come upon her and swiped the wig off her head, before giving gleefully smiling and returning it back to her, remaining silent the entire time, police said.
On the same day, the report adds, another woman walking along the same cross streets told Los Angeles Police officers that she was "approached from behind" by the same man and she said he "attempted to pull the wig from her head."
Months went by until Tuesday afternoon.
That's when the anti-Semitic brute saw a 58-year-old woman loading music equipment into her car around Laurel Canyon and Burbank Blvd., when police said "the same suspect from the prior to incidents" allegedly went for her wig.
As he plucked it from her head, the man feigned a sarcastic "Oh, I'm sorry!" before throwing the hairpiece to the ground and walking off, according to police.
Orthodox Jewish women are known to wear wigs, scarfs, or hats to cover their hair as a symbol of modesty.
In New York City, two teenagers were caught and slapped with hate crime charges for knocking a hat off of a 14-year-old male victim's head on Saturday at around 5:30 p.m. located at Synagogue Volkan on Franklin near Willoughby Avenues in Brooklyn's Clinton Hill, according to the New York Police Department (NYPD).
One of the youths allegedly cause damage to the Jewish holy sanctuary when he "threw a metal pipe into the front window," according to a report. Then, the teen and "several others" chased a 10-year-old girl she was "pushed… to the ground" and wounded as a result.
The suspects, both 13-year-old boys, were charged on Thursday. One of them, according to police, faces Criminal Mischief as part of a Hate Crime, and the other was charged with Aggravated Harassment involving Race and Religion.