Los Angeles Police Officer Arrested for Allegedly Smuggling Undocumented Immigrants Into U.S.
An officer from the Los Angeles Police Department was arrested and charged with allegedly smuggling undocumented immigrants into the United States, authorities said.
Mambasse Koulabalo Patara was arrested on Wednesday after he was accused of smuggling two citizens from Mexico into Southern California, KNBC-TV reported.
Patara, Femin Lopez and German Ramirez-Gonzalez, Lopez's nephew, were pulled over by patrol agents in their black 2006 Toyota Corolla at 12:15 a.m. Patara was driving the car when they were stopped in Tecate, California, on Tuesday.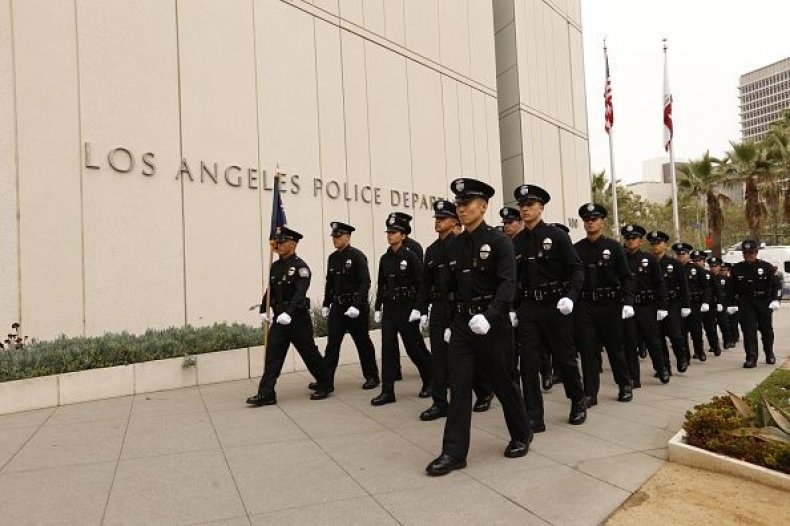 Patara told the agents that he was a U.S. citizen and a police officer and showed his LAPD badge. He told the agents that the group was coming back from Golden Acorn Casino, according to court documents obtained by KNBC.
When the two other men could not provide identification to the agents, the agents checked their immigration status and determined they were not U.S. citizens. All three men were arrested at 1:30 a.m., the publication reported.
Lopez said he and his nephew came to the U.S. illegally and walked for half the day before getting to the casino. Ramirez-Gonzalez said both him and Lopez had known Patara for five years and had crossed the border on April 22, the court documents stated.
The LAPD confirmed to Newsweek that Patara has been placed on paid administrative leave, but did not provide further comment on the arrest. He is scheduled to appear in court on April 30.
Earlier this month, the U.S. deployed troops from Arizona and Texas to the Mexican border after President Donald Trump ordered enhanced border security. States like New Mexico and California were also asked to send troops to the area. Trump has also said he wanted to build a wall that would stop immigrants from entering the U.S. illegally,—one of his primary platforms while campaigning for president.
Los Angeles Police Officer Arrested for Allegedly Smuggling Undocumented Immigrants Into U.S. | U.S.