Los Angeles Rams vs. Oakland Raiders: TV Channel, Live Stream, Start Time, Betting Odds, Preview for MNF NFL Game
Oakland Raiders head coach Jon Gruden is set to (kind of) make his debut with the franchise on Monday night. It's more a homecoming for the coach-turned-ESPN analyst-turned-coach-again, since he previously led the team from 1998 to 2001.
Gruden expressed his excitement for the season in the typical language some might recognize if they watched him at all during his nearly decade-long run as a commentator.
"It's an honor to coach here, man," he said in a hype-video of sorts published by the team. "There's nothing like winning—nothing like winning with the Raiders."
Gruden's squad will face a tough test on Monday night as the Raiders take on the Los Angeles Rams, one of the most talented teams in the NFL.
The start of Gruden's tenure has already been tumultuous at best. After being handed a reported $100 million deal, he traded away the team's best player as one of his first major acts leading the franchise. Just before the season was set to get underway, Gruden dealt pass-rusher Khalil Mack to the Chicago Bears for a couple of first-round picks, claiming the defender was set to make too much money.
"We would like to have the player stay here; he was under contract," Gruden said, according to USA Today. "We did not expect [Mack holding out] to last as long as it did. But we're going to be second-guessed until the cows come home on this. I understand that. But, bottom line is, we did do our due diligence, there was a standoff, and he got a great contract from the Bears—a great contract."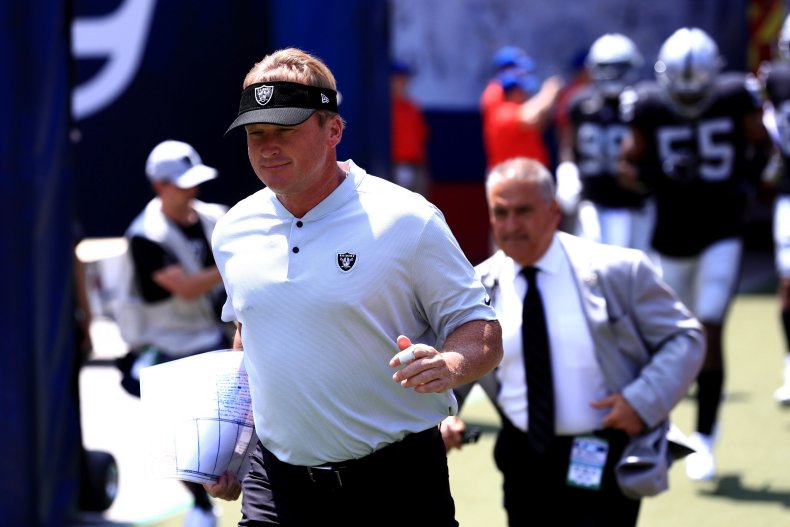 Playing limited snaps in his first game as a Bear on Sunday, Mack still managed a stellar game, registering a sack and an interception returned for a touchdown.
The Rams, meanwhile, enter the game against the Raiders with high expectations. They went 11-5 last year and boast an incredibly deep roster. It'll be interesting to see how quarterback Jared Goff and the rest of the offense plays on Monday, considering the controversial choice from head coach Sean McVay to not play his starters at all during the preseason.
"In an ideal world, you would like to be able to have [Goff] get that experience and things like that," McVay told The Los Angeles Times. "But, at the risk for what we thought could potentially occur, that was a decision that we made and I totally respect and understand that people might disagree with that."
Here's everything you should know about the Monday Night Football matchup:
Start time: 10:20 p.m. ET
TV channel: ESPN
Betting odds: Rams -5
Live Stream: NFL app (for mobile or internet-connected TV), fuboTV or WatchESPN.