Los Angeles to Require City Employees to Provide Proof of Vaccination
Los Angeles officials announced Tuesday that city employees will be required to show proof of COVID-19 vaccination or submit to routine testing and provide weekly proof of negative tests in order to keep their jobs.
LA Mayor Eric Garcetti and City Council President Nury Martinez said they would move to instate the new requirements once COVID-19 vaccines receive full Food and Drug Administration approval. Currently, vaccines by Pfizer, Moderna and
Janssen have emergency use authorization.
"The fourth wave is here, and the choice for Angelenos couldn't be clearer—get vaccinated or get COVID-19," said Mayor Eric Garcetti in a statement emailed to Newsweek.
"So please, visit your doctor's office, or a local drug store, or one of our many free sites and get the vaccine right now, because it could mean the difference between life and death for you or a loved one. This urgent need means that if you're a City employee, we're now going to require you to either show that you're vaccinated or take a weekly test, and we're committed to pursuing a full vaccine mandate. I urge employers across Los Angeles to follow this example."
"I support having all city workers vaccinated," said Martinez, who has called a special council meeting for Wednesday to discuss the potential mandate.
Garcetti and Martinez's announcement comes one day after the statewide announcement that California state employees and healthcare employees will be required to show proof of vaccination or regular negative COVID tests. More California cities, including San Francisco and Pasadena, have recently announced similar plans.
As soon as the vaccines receive full FDA approval, the mayor's office may pursue a vaccine mandate without an opt-out via regular testing option, according to a statement released Tuesday.
A growing number of Los Angeles politicians have been voicing their support for a city employee vaccine mandate.
"Plain and simple—vaccinations are the only way out of this pandemic," Councilman Mark Ridley-Thomas said in a statement Monday evening. "If we want our economy to fully recover, if we want our children to be able to go to school without masks on and if we want the most vulnerable members of our community to not end up in the hospital, we must all do our part, and this motion is a step in the right direction," Ridley-Thomas said. "It's time to get it done."
"There's no question in my mind that the city of L.A. should model to the state and the nation that we will do everything within our power to keep our city workers and neighbors safe," said Councilman Kevin de León.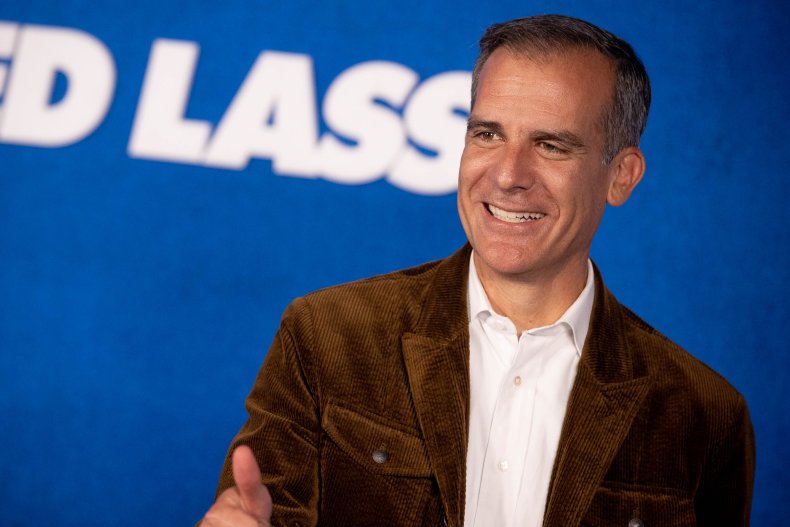 Trailing vaccination numbers in Los Angeles police and firefighters has been a controversial topic of concern.
"How do you engender confidence from the public if you're not assuring that the people providing services are vaccinated?" City Councilman Gil Cedillo asked Monday.
"We do not support a mandatory policy at this time," said United Firefighters of Los Angeles City Local 112 President Freddy Escobar, although he clarified that they do encourage vaccination.
There has been some hesitancy around potential lawsuits about what the Los Angeles government can legally require. If employees have some kind of alternative to getting vaccinated, like getting regularly tested, "it essentially narrows the potential for a lawsuit," Michael Jenkins, a lecturer at USC Gould School of Law told the Los Angeles Times.
However, Ridley-Thomas has said that with the spread of the Delta variant, frequent testing is not enough.
Updated 07/28/2021, 4:13 p.m. ET: This story has been updated with a statement from Los Angeles Mayor Eric Garcetti.