The Los Angeles County Department of Public Health announced Thursday that the county is reimplementing its indoor mask mandate as of Saturday because of rising COVID-19 case numbers.
Dr. Muntu Davis, an officer for the department, said he signed the order because "We're seeing the rates go up too high. We all need to do our part to try and prevent the need to do something else," potentially more serious.
"This is an all hands on deck moment," he explained.
The mask mandate, which will go into effect at 11:59 p.m. on Saturday, "will be similar" to what was required before Gov. Gavin Newsom lifted state-level restrictions on June 15. Masks will be required in all areas indoors, regardless of vaccination status.
LA County's COVID-19 case rate is now at 7.1 per 100,000 people, putting it at the "substantial" spread designation according to the CDC. Davis also noted that since a relatively large number of LA County residents remain unvaccinated, the risk of spread is serious.
The Delta variant now accounts for 71 percent of all cases in L.A. County, Davis said. The Delta variant is known to be more contagious, and quicker-spreading than other variants of the coronavirus. People who are unvaccinated are at the most risk.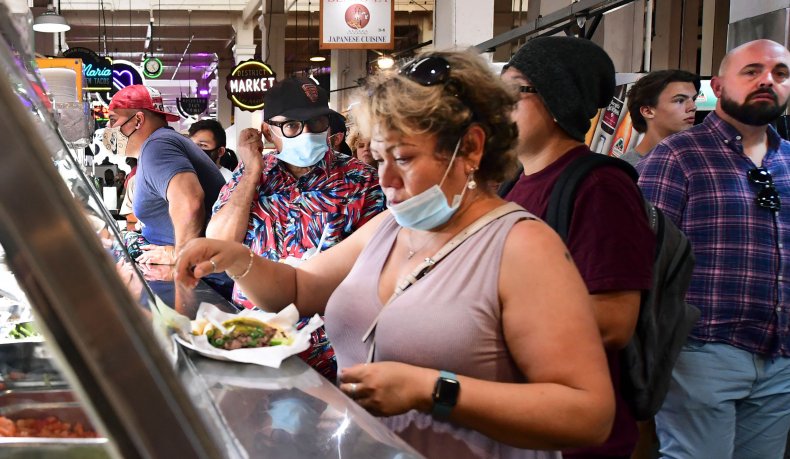 Data from the LA County Public Health Department shows that as of July 9, about 61 percent of people 16 and older are fully vaccinated.
Thursday, the number of new cases recorded was 1,537. It was also the seventh consecutive day the recorded numbers were above 1,000. The county has seen about a 500 percent increase in average new cases in one month.
Some experts consider the percentage of positive tests over one week to be one of the best indicators for how well the fight against the virus is going in a particular region. LA's average test-positivity rate had increased nearly 700 percent in the last month and nearly doubled from Friday to Sunday.
"We're seeing cases in children and younger adults rising," Davis said, noting that adults who live with children can help protect them from the virus by getting vaccinated themselves.
Pharmaceutical companies Pfizer and BioNTech who are responsible for producing major COVID-19 vaccination in the United States announced in early July that they hope to begin trials in August for a COVID-19 vaccine booster shot that will bolster immunity against the Delta variant.
If the returning masking mandate doesn't reverse the upward trend in new infections, Davis said, "Everything is on the table if things continue to get worse. The next level is 'High Transmission,' and that's not a place that we want be. We can't wait for this to go higher before we act."
Newsweek reached out to Mayor Eric Garcetti for comment.