Threat to Los Angeles, New York City Schools Investigated as a Hoax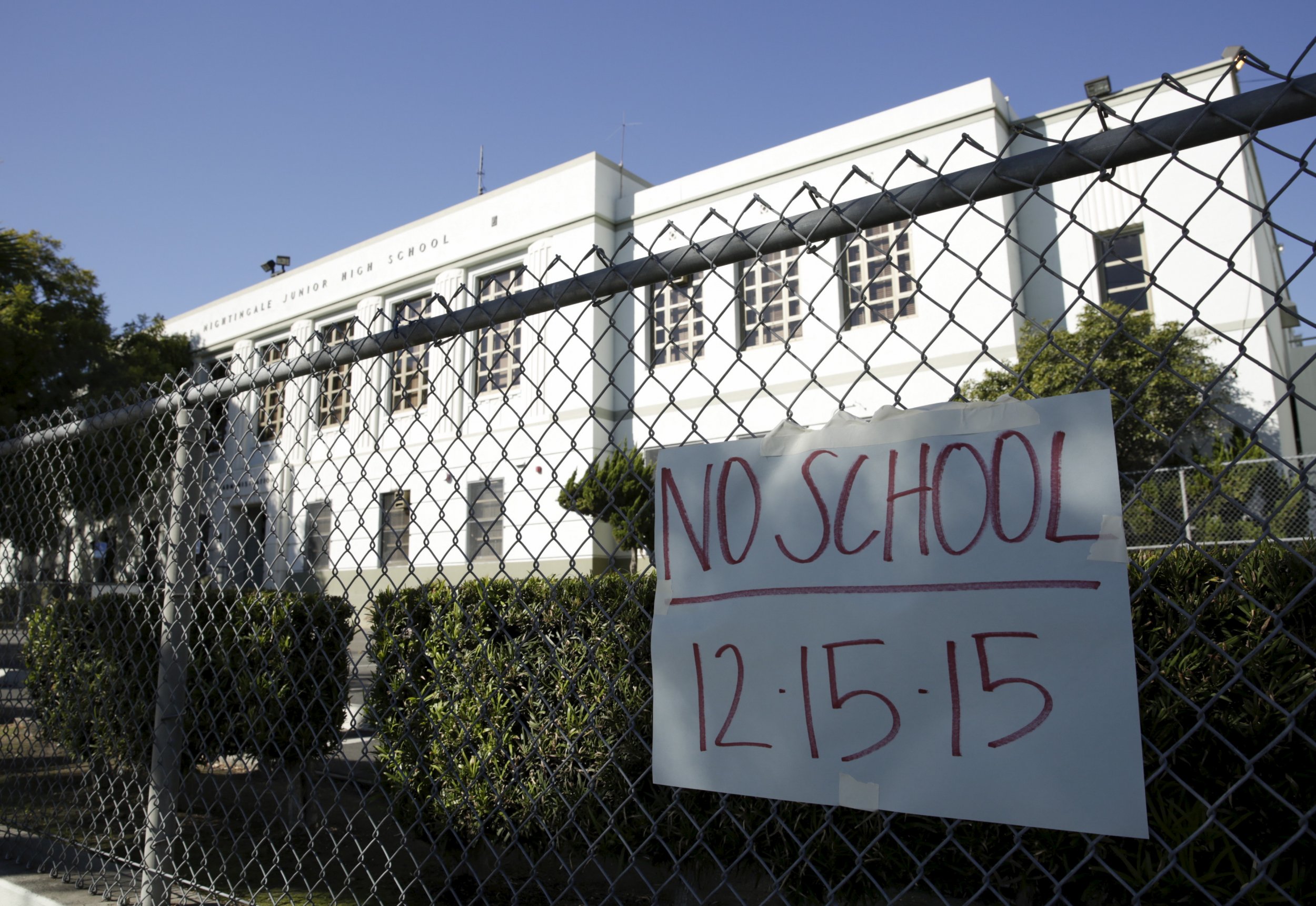 Updated | The New York Police Department is investigating a threat made against school systems as a hoax, Commissioner Bill Bratton said at a press conference on Tuesday afternoon.
The threat targeted Los Angeles and New York City schools. While New York authorities did not shut its school system down, the Los Angeles Unified School District closed all campuses after receiving a bomb threat via email, administrators said Tuesday morning.
"We do have an investigation underway, but it is an investigation into a hoax," Bratton said. "We strongly believe that the email that was received in New York City, which is similar and almost exactly the same as received in other locals, specifically Los Angeles, we do not see that as a credible, terrorist threat."
Bratton said the email is believed to have originated overseas. In the email, Allah, as God is referred to in Islam, is not capitalized, leading authorities to believe it is a hoax. "That would be incredible to think that any jihadist would not spell Allah with a capital 'A,'" Bratton said.
Bratton told ABC News the threat is similar to an episode of the television show Homeland. The network obtained the threatening email sent to New York school officials:
"I am a devout Muslim, and was once against violence, but I have teamed up with a local jihadist cell as it is the only way I'll be able to accomplish my massacre the correct way," the email said, according to ABC. "Something big is going down. Something very big. It will make national headlines. Perhaps, even international ones."
Speaking at a press conference early Tuesday morning, Los Angeles District Superintendent Ramon Cortines did not specify the exact nature of the threat, but noted it targeted "many schools," while describing this particular kind of threat as "rare," but noting "we get threats all the time." Cortines said officials in California took this threat more seriously because of the recent San Bernardino mass shooting.
"I want every school, every adult education center, every early education center, I want them searched," he added.
The Los Angeles Police Department and FBI are involved in the investigation into the email and its origins. LAPD Chief Charlie Beck told reporters it was the police department's decision to contact the FBI.
"The actions we are taking today are swift, and they are appropriate given the situation we are in," Steve Zimmer, board president of the Los Angeles Unified School District, said during the press conference.
"We ask for your patience, cooperation, and support of the city. The education of our kids is incredibly important. The only thing that is more important is their safety," he said.
Students who have arrived at school will be with staff until parents and guardians are contacted, the district tweeted Tuesday morning. At a press conference later on Tuesday, Cortines said the school district was in touch with parents.
Both Beck and Los Angeles Mayor Eric Garcetti said that some have been questioning the choice to shut down the entire school district, but added that they support the decision to ensure the safety of the students.
"My number one priority is keeping this city safe and I will continue to do that," Garcetti said. He urged Los Angeles residents to alert authorities if they see anything suspicious following the threat.
The district has over 640,000 students, according to CNN.
This story has been updated to include new information from a press conference.
Correction: An earlier version of this story mistakenly referred to Allah as the Islamic prophet. Allah is how Muslims commonly refer to God.