Los Angeles Facing First-Ever Blizzard Warning
An "extremely dangerous" storm is moving into Southern California, bringing with it the first blizzard warning Los Angeles has seen, according to the National Weather Service (NWS).
As a separate massive winter storm moves eastward across the country, Southern California is also facing threats of snow, rain and even a blizzard. The NWS reported that Los Angeles County and Ventura County mountains are under a blizzard warning from early Friday morning through Saturday afternoon.
Snow accumulations could reach 5 feet and wind gusts are forecasted to exceed 55 miles per hour.
The NWS Los Angeles issued the blizzard warning Wednesday, warning that mountain conditions in the area would be "extremely dangerous." The organization then clarified that it was the first blizzard warning it was aware of for the area.
AccuWeather senior meteorologist Adam Douty told Newsweek that the storm moving into Southern California would bring "a pretty significant rain and snow event."
He said the mountains near Los Angeles and San Diego could see over a foot of snow at elevations of 3,000 to 4,000 feet. Lower elevations, such as in the LA basin, could see enough rain to cause flooding. That amount of precipitation is rare, with Douty saying it only happens every three to five years.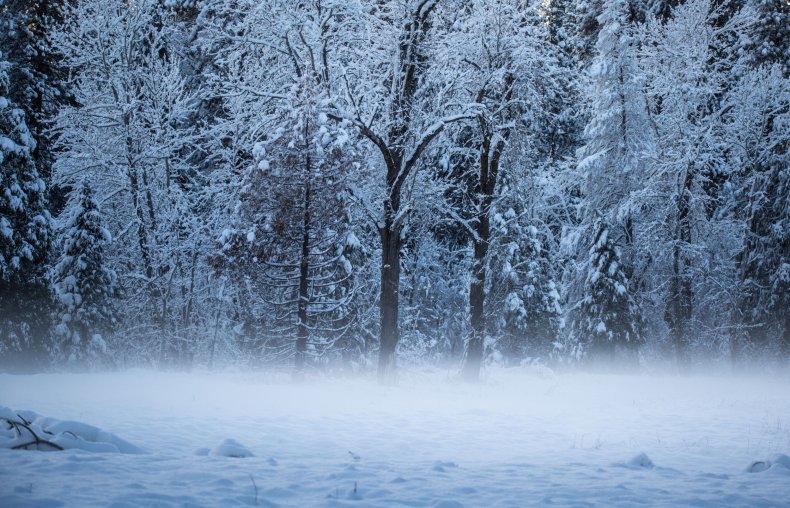 "A lot of times you don't get the storm systems far enough south along the Pacific Coast with this moisture and these cold temperatures," he told Newsweek.
ABC7 meteorologist Drew Tuma said the rare blizzard could be the largest snowstorm in the area since the 1980s.
"A rare Blizzard Warning has been issued for parts of Southern California (first one issued in decades)," he tweeted on Wednesday. "The mountains of Los Angeles and Ventura County will see wind gusts to 75 mph and 2-5 feet of snow which will make it the largest snow storm since the 1980s."
It isn't the first rare storm to hit the Golden State this year. In January, parts of California received torrential rain that brought on a barrage of floods, mudslides and other weather conditions, like hail and tornadoes. The storms killed at least 19 people and caused more than $30 billion in economic loss.
The onslaught of rain helped downgrade much of the state from the extreme drought category. However, according to the most recent map from the U.S. Drought Monitor, all of L.A. County and Ventura County are still experiencing some form of drought or dry conditions.
Northeastern L.A. County is under "severe drought" conditions, with the center of the county falling under "moderate drought" conditions and the southwest corner classified as "abnormally dry." Ventura County is mostly considered "abnormally dry" with the northeast corner classified as under "moderate drought" conditions.
It is unknown if the incoming storm will continue to downgrade the drought conditions in the area.