Los Angeles TV Station Labels Jose Altuve 'Astros Cheater' During Press Conference on Sign-Stealing Scandal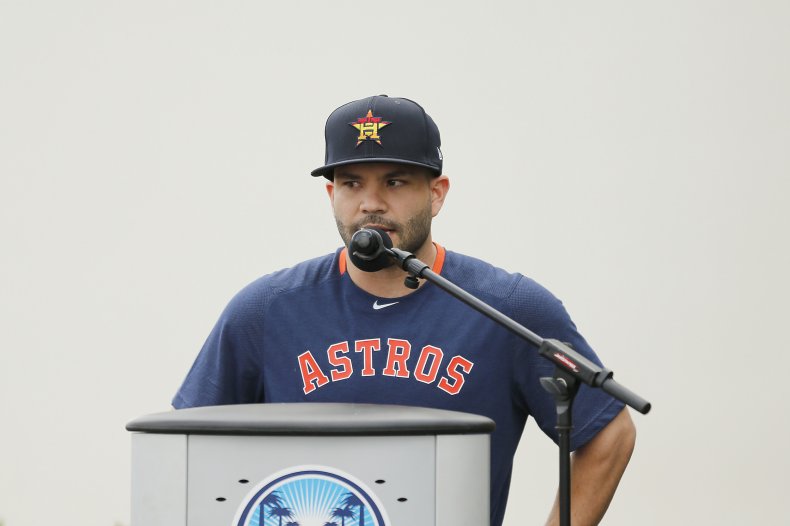 On Thursday, during a Houston Astros press conference, Los Angeles news station KTLA labeled both Jose Altuve and Alex Bregman as cheaters.
The label stems from the involvement of the two players in the Astros 2017 sign-stealing scandal, which Altuve and Bregman have both apologized for. The 'Astro Cheater' designation appeared on the lower-third of the screen as both athletes spoke during the press conference.
The Astros' press conference was the first time that some members of the team had spoken to the media following the conclusion of an investigation by Major League Baseball into the cheating allegations brought forward by Mike Fiers, a former Astro. The MLB determined that the club was guilty of using electronic methods -- including cameras and tv screens -- as well as beating out a morse-code type signal on trash cans to let batters know what pitch was coming from an opposing team.
While KTLA referred to Bregman and Altuve as "Astros Cheaters," this is not the first time people from Los Angeles expressed their distaste for the Astros following the sign-stealing scandal. Just a week after the MLB released their findings from their investigation, the Los Angeles City Council passed a resolution urging the MLB to revoke the Astros' 2017 World Series title. The resolution also asked the league to revoke the Boston Red Sox 2018 World Series title, as the club is also under investigation for a similar sign-stealing scandal. Both teams defeated the Dodgers in those respective playoff seasons, the Red Sox in the World Series and the Astros in the ALCS.
"We don't know whether the (Dodgers) would have won or lost in a fair fight. But we know they were cheated out of a real shot at a championship. This country needs to receive a message that cheating is not OK," Los Angeles Councilman Paul Koretz, one of the authors of the resolution, said.
Shortly after its passage, MLB commissioner Rob Manfred rebuked the request. He noted that it was unclear who would have been in the World Series if the Astros didn't cheat. "Whatever the impact of the sign-stealing was, it could have changed who was in the World Series. It's absolutely unclear that the Dodgers would have been World Series champions," he said.
Manfred also rebuked the inclusion of the Red Sox in the resolution, noting that the investigation into the team is ongoing, "so it's a little hard to take that trophy away from somebody who hasn't yet been found of doing something wrong."
Newsweek reached out to KTLA for comment but they did not respond in time for publication.
Los Angeles TV Station Labels Jose Altuve 'Astros Cheater' During Press Conference on Sign-Stealing Scandal | Sports