Although New York City will soon require proof of COVID-19 vaccinations for indoor activities, officials in Los Angeles appear to have no immediate plans to follow suit.
New York City on Tuesday became the first major city in the U.S. to announce that people will need to provide proof that they have had at least one jab in order to enter indoor restaurants, gyms and theaters from mid-August.
But a similar scheme isn't expected in Los Angeles any time soon, officials say, as many companies are requiring that their workers and customers be vaccinated.
Los Angeles County "is not requiring proof of vaccination for customers to enter specific businesses at this point in time," a spokesperson for the Los Angeles County Department of Public Health told Newsweek.
"We applaud those businesses that are assessing risks to their employees and customers and adding additional layers of protection, including requiring proof of vaccination."
The department implemented a mask mandate for indoor public spaces in mid-July, but has left proof-of-vaccine requirements up to businesses and institutions.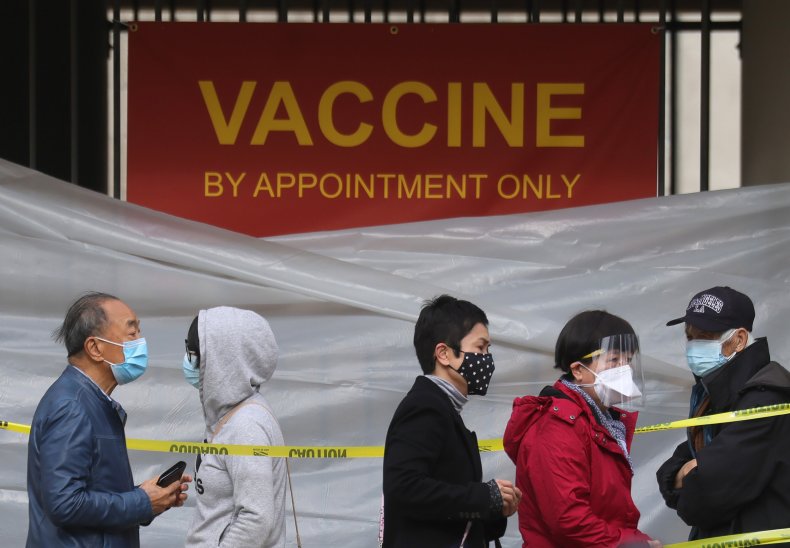 In recent days, California-based companies including Google, Facebook, Microsoft and Disney have announced vaccine mandates for employees.
Last week, the California State University system said it would require faculty, staff and students who come to campus in the fall to be vaccinated against COVID-19.
That decision came after the University of California announced in July that COVID-19 vaccinations would be required for all students and faculty before the fall term begins.
Unvaccinated students without approved exemptions will be barred from in-person classes, events and campus facilities such as housing, a memo said. They will be limited to online courses, but not all courses will be offered online.
New York City Mayor Bill de Blasio said the measure was being taken to convince holdouts to get vaccinated amid a surge in coronavirus infections fueled by the more contagious Delta variant.
"The goal here is to convince everyone that this is the time," Mayor de Blasio said at a news conference. "If we're going to stop the Delta variant, the time is now. And that means getting vaccinated right now."
Chicago Public Health Commissioner Dr. Allison Arwady said the city had no plans for a vaccine mandate yet, but would be watching how New York City's scheme works.
"Certainly we're interested in this. We'll be watching to see how this plays out, but we don't have a current plan to do something like that at the city level," she said.
Update 5/8/21, 3:10 a.m. ET: this article has been updated with a statement from the Los Angeles County Department of Public Health.