L.A. Hit by Vaccine Shortage as Mayor Garcetti Calls Dwindling Supplies 'Unacceptable'
Los Angeles is temporarily closing five COVID vaccination sites after running out of doses this week, with the city's mayor warning the supply of new vials was "uneven" and "unpredictable."
L.A. has so far vaccinated nearly 300,000 of its four million residents, but Eric Garcetti said the roll out had hit an "enormous hurdle" which left clinics low on stock and appointments for the weekend canceled.
"This week we are delivering more vaccines, more quickly, at more locations," he said. "But the vaccine news is quite frankly good and bad.
"The problem is, and here is the bad news, we don't have enough vaccines.
"I am very concerned right now. I am concerned as your mayor that our vaccine supply is uneven, it is unpredictable, and too often it is unequitable."
He said by Friday, the city would have exhausted its supply of the Moderna vaccine for first dose appointments.
This would lead to the temporary closure of the Dodger Stadium and the other four non-mobile vaccination sites for two days on Friday and Saturday.
"This is an enormous hurdle," he said. "This is not where I want to be, this is not where we deserve to be."
Delays were due to slow down in the number of vaccine vials delivered to the city, down from around 90,000 last week to 16,000 this week.
L.A. administers an average of 13,051 vaccinations daily, meaning the entire week's delivery could be used in around a day, Garcetti said.
"Even as we've heard good news at the national level, from our new administration, of new numbers overall for our country, moving from eight million to 11 million vaccines, for some reason it hasn't yet reached us. So these closures unfortunately are inevitable.
"That is unacceptable. I'm not here to point fingers, I'm here as always to be a partner, but I want to be clear, Los Angeles needs more doses."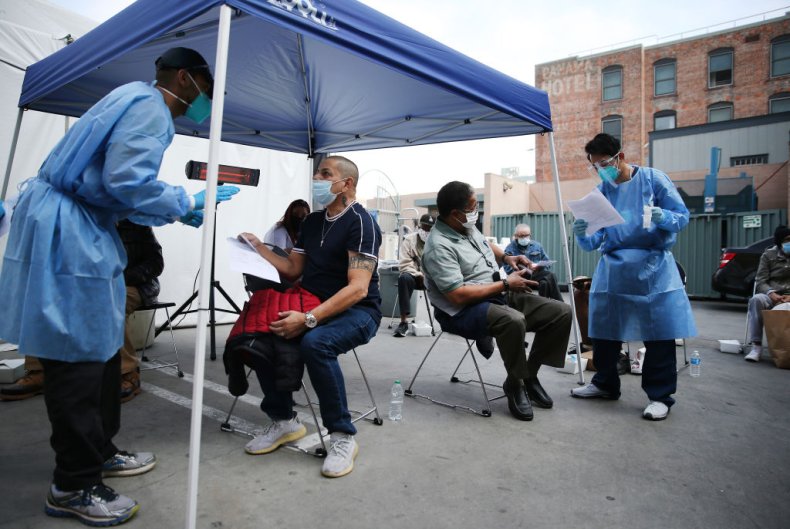 California has received 7.6 million doses of the vaccine but has administered just over five million, leading some to criticize officials including the California governor, Gavin Newsom.
For the city at least, Garcetti said 98 percent of all vaccine doses received had been administered.
Having toured vaccination centres across the state this week, Mr Newsom spoke to reporters Wednesday in Fresno about the rollout.
"Real progress is being made," he said. "We announced new vaccination sites just this week up and down the state of California."
He said he was focused on ensuring "underserved and underrepresented communities were getting fair access and distribution of these vaccines," but added: "We are falling short of our goals of making sure that we truly are being equitable in the distribution and administration of this vaccine."
Mr Newsom also said that while there was positive news on COVID infections and hospitalisations in California, which were both down significantly on a month ago, the state had seen two cases of the South African variant for the first time.