Los Angeles Saddleridge Wildfire Evacuation Map: 100,000 Residents Evacuated From Vulnerable Homes
A spreading wildfire in California forced the evacuation of many residents in Porter Ranch on Thursday night. The Saddleridge fire began in Sylmar, a Los Angeles neighborhood, and residents were told to leave their neighborhoods before the fire spread.
Early Friday, it was reported the Saddleridge wildfire had destroyed homes and forced the closure of two highways. The Los Angeles Fire Department released an evacuation map, showing which areas are affected by the fire.
So far, areas north of the 118 freeway have been evacuated, which includes all of Porter Ranch, according to KABC-TV. The map also shows mandatory evacuations near Stetson Ranch Park and O'Melvany Park.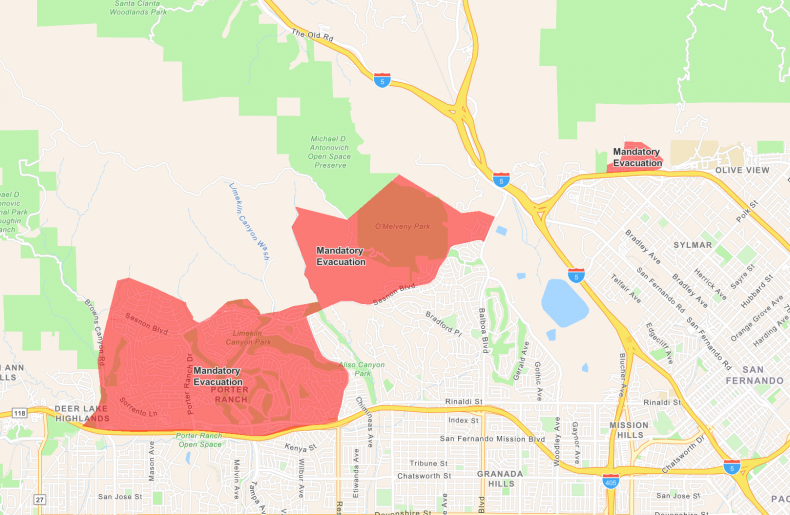 Sylmar and Granada Hills are hosting evacuation centers for the thousands or residents who had to leave their homes late Thursday and early Friday. Residents and their small pets can find immediate shelter at the Sylmar Recreational Center. The Granada Hills Recreational Center was also opening its doors to those fleeing the fires, but is at capacity and cannot accept any more residents, according to KABC-TV. Neither location is accepting large pets. Residents must bring large pets to the Hansen Dam.
The Saddleridge fire has forced the closure of a part of I-5 in Santa Clarita. The 210 is also experiencing major closures, while the SR 14 is closed southbound and the I-405 is closed northbound. A handful of Los Angeles schools were also closed on Friday.
So far, no injuries have been reported. Around 12,700 homes have been evacuated—which hold around 100,000 residents, according to the Los Angeles Times.
The fire was first reported around 9 p.m., though it made its way into neighborhoods before police and fire officials were able to properly warn residents. Some took measures into their own hands and called family members in the area, or woke up their neighbors.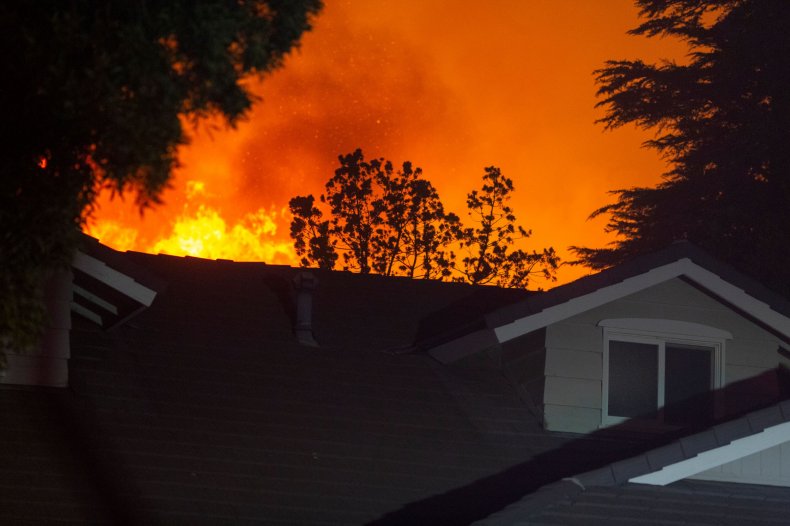 Resident Cece Merkerson said she tried to make sure her neighbors were evacuating. "I started knocking on all my neighbors' doors because I knew they were sleeping," she told the Los Angeles Times. "I'm banging and banging and I woke up about eight of them—and they all looked at me like I was crazy."
An entire juvenile correctional facility, the Barry J. Nidorf Juvenile Hall, was also evacuated.
"They get freaked out. The fire is right there. It would freak out anyone," a spokesperson for the facility, Kerri Webb, said. "We have to keep them calm. Once these kids see the fire right there they realize, 'OK, we're going to do what the officers tell us.'"