Republican congressional candidates have latched onto election fraud claims raised by President Donald Trump after losing in a handful of Senate and House races last week, while others have bucked the commander-in-chief by conceding.
A handful of GOP hopefuls who lost their races in Michigan, Tennessee, Pennsylvania and Maryland raised "deep concerns" about electoral fraud and other supposed "irregularities" in the vote as the Trump campaign filed lawsuits voicing similar claims.
Charlotte Bergmann, the Republican candidate in Tennessee's 9th Congressional District, claimed on Friday that "several" of her volunteer poll watchers had witnessed voter fraud take place in Shelby County.
The candidate also shared a post from President Trump demanding that officials "stop the count" on Thursday, and arguing that there were "plenty of reasons" for counters to "stop the FRAUD" before every vote had been tallied. Bergmann lost to Democratic candidate Steve Cohen by more than 57 percentage points and almost 140,000 votes.
In the 7th Congressional District of Maryland, covering much of Baltimore, Bergmann's fellow GOP candidate Kimberly Klacik tweeted that she "agreed" with a post from Trump quoting former House Speaker Newt Gingrich as saying the election had been stolen.
"I beat my opponent on day of & in-person early voting, along with absentee," Klacik said. "However, 97k mail in ballots were found in his favor? Luckily, we raised enough money to investigate."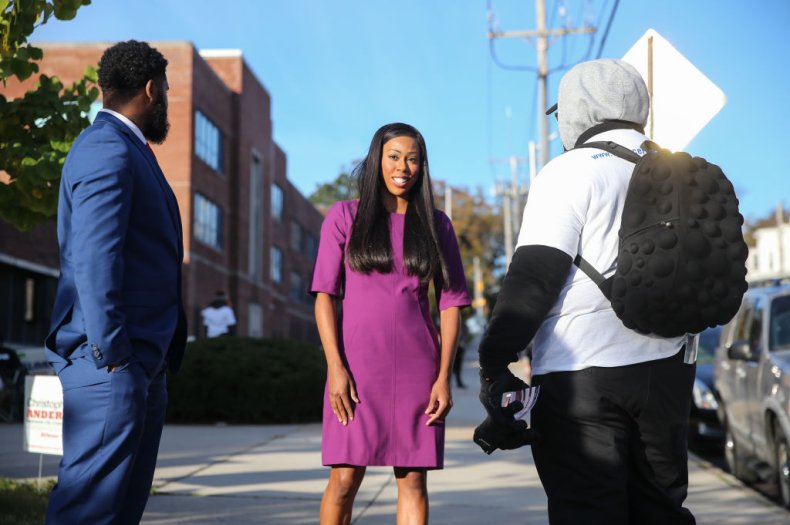 The Democratic candidate Kweisi Mfume defeated Klacik by a wide margin of more than 43 points and a little less than 130,000 votes. The Republican, who has since conceded, won just 28.1 percent of the popular vote in the district.
"I'm going to the Los Angeles County Registrar's Office in Norwalk today to audit the vote counting procedures," Errol Webber, the GOP candidate for California's 37th District, posted on Monday. "I will NOT concede. Every LEGAL vote needs to be counted!"
Once again, the would-be Republican lawmaker was dwarfed by his Democratic rival, winning only 13.8 percent of the popular vote, according to the latest tally from The New York Times.
Over in Pennsylvania, where the Trump re-election campaign filed a lawsuit on Monday, the 17th District's GOP candidate Sean Parnell has so far refused to concede the contest and called for authorities to "investigate irregularities" after he lost by a little more than 2 percentage points.
The Republican Senate candidate for Michigan John James took a similar tone on Thursday last week, releasing a statement that said he had "deep concerns" about the handling of the election.
"While Senator Peters is currently ahead, I have deep concerns that millions of Michiganders may have been disenfranchised by a dishonest few who cheat," he said.
"When this process is complete, I will of course accept the results and the will of the people, but at this time there is enough credible evidence to warrant an investigation to ensure that elections were conducted in a transparent, legal and fair manner."
The challenger is still refusing to concede the race after it was called in favor of the Democrat Gary Peters, who leads by 1.6 points with 2 percent of the estimated vote left to be counted, according to The New York Times tracker.
Newsweek has contacted the Klacik, Bergmann, James, and Parnell campaigns for further details and comment. This article will be updated with any responses.
While some GOP down-ballot candidates have refused to accept the outcomes of their races, issuing complaints about supposed instances of fraud, other Republicans have conceded quietly and thanked their teams.
Mark Ronchetti, the Republican Senate candidate for New Mexico, tweeted that he had been "honored" to run for the upper chamber while accepting that his team of volunteers "might not have gotten the outcome we wanted" on Election Day.
Jesse Jensen, the Republican challenger for Washington's 8th Congressional District, struck a similar chord on Friday as his race continued to hang in the balance.
"We need to respect the process. If there is verified fraud, we need to leverage the judicial process. I have seen zero irregularities in my race," he said. "We need to count all the votes. I'm looking forward to my race being called after a complete tally."
The race has still not been called by The New York Times' House tracker, which puts Jensen 3.6 points behind Democrat incumbent Kim Schrier with 98 percent of the estimated vote tallied so far.