Lost Canadian Toddler's Giggles Lead Rescuers To Find Him In A Hole As Deep As Child Is Tall
Hundreds of rescue workers were worried sick on Tuesday as they searched for Courtlund Barrington-Moss on a day that was supposed to reach at least 90 degrees. But what finally helped them find the boy was the sound of giggling.
On Monday night, the 2½-year-old boy was reported missing by his family after he wandered away from a family gathering in Aneroid, Saskatchewan.
Though the town 60 miles north of the U.S. border has a population of about 50 people, nearly 400 mounties from the towns of Ponteix, Swift Current and Assiniboia joined in and helped search for the missing toddler. The rescue effort, which went on through the night, also included a police dog and a Mounted Police search plane.
"They got everyone there they could possibly think of," Courtlund's mother, Keeley Moat, told NBC News on Wednesday.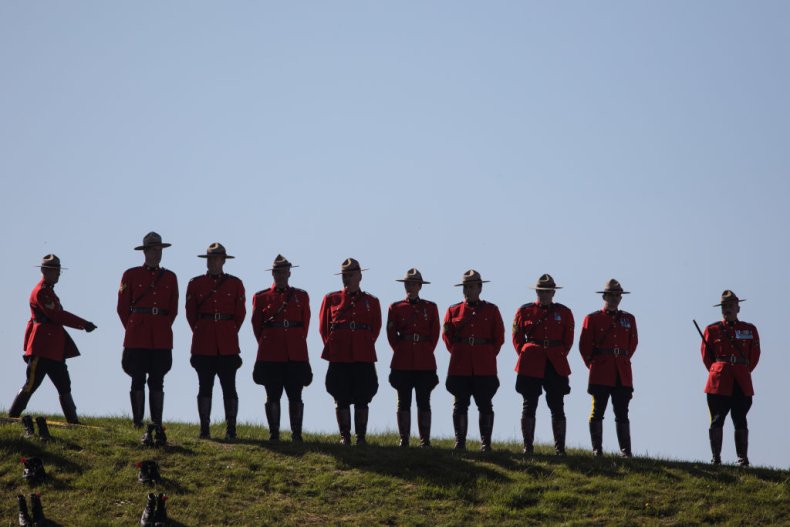 Finally, at 9 a.m. the next morning, rescue workers heard a giggle. They found Courtlund in a hole that was as deep as he was tall, giggling at the workers and their horses.
The hole was about a mile from where the toddler had disappeared.
Courtlund suffered a sunburn, a few mosquito bites and a few scratches but was otherwise alright, NBC News reported.
This is just one case of a runaway toddler to be reported this summer. Last week, a 2½-year-old toddler driving a battery-powered tractor made it to the local county fair a block and a half away on opening night.
The unnamed toddler's route took him across sidewalks and through the main gate of the Chisago County Fairgrounds. A state representative spotted the child by the Tilt-a-Whirl and brought him to sheriff's deputies, who located his parents.
Child joy rides might happen more often than you'd think. Last month, a 4-year-old stole his great-grandfather's Hyundai Santa Fe and drove through his Minnesota neighborhood on a quest for candy.
The boy turned onto a main street during rush hour, but managed to make it to a nearby gas station without major incident. Along the way though, he hit several mailboxes and clipped a tree, which damaged the front bumper of the car.
Police met the boy at the gas station. No one was injured during his joy ride.
A pair of siblings in 2017 also managed to operate a vehicle. Aged two and five-years-old, one child controlled the gas and brake while the other controlled the steering wheel.
The two West Virginia siblings made it three miles before they crashed into a ditch. In that instance, too, the boys were unharmed.