Lost Cat Reunited With Owner After Going Missing 11 Years Ago
A pet owner said she is "excited, happy, and relieved" after being reunited with the cat she lost 11 years ago.
The cat, named Angie, was found in a "worrying state" by a couple in Desingy, a town in southeastern France, on Sunday.
They took the now 14-year-old cat to a vet, who was able to identify using a microchip that contains a unique number linked to a pet owner database.
Angie had gone missing soon after her owner moved to the area and it is assumed that the pet stayed in the area alone for the last decade.
The cat's owner, Alicia Desmons, had since moved to Sarthe, an area in northwestern France—a six-hour drive from Desingy.
Desmons, who was "overwhelmed by emotion," and immediately got in her car and drove overnight to be reunited with her long-lost cat.
She said she had previously been back went back dozens of times to look for Angie, who she had reported missing to neighbors at the time of her disappearance.
Desmons told Newsweek that Angie has now returned home from the vet and is "so tired and low but she's fine," and that she herself is "so excited, happy, and relieved."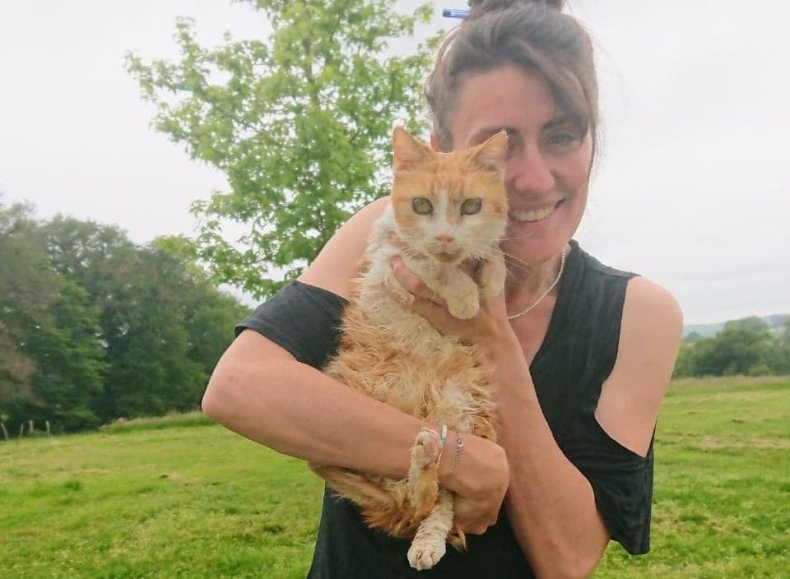 She said that she had given up hope of ever finding Angie, but hoped that she lived with another family and that she was "fine and happy and beloved" by them. However, she thinks that Angie actually lived alone in nature for 11 years.
Angie is happy to be reunited with her owner. Desmons added: "Now she never leaves me, she follows me everywhere, in all the rooms of the house." She said that they will celebrate their reunion with "treats and hugs."
The veterinary clinic that shared the story of the reunion said it was, "the most beautiful gift, without doubt, for this young mother and a very emotional moment for the entire clinic team!"
Desmons told Angie's rescuers on Facebook: "Thank you again for bothering to pick her up and insisting that she be taken care of by a vet. Thank you to the professionals who agreed to receive her and did an outstanding job!"
Social media users were delighted by the story, like one Facebook user who said: "How lucky for this little kitty to have her mom back after so many years of absence. I'm delighted for them both."