Meet The Cast of 'The Lost Daughter': From Olivia Colman to Dakota Johnson
The Lost Daughter, which has been the recipient of some serious Oscar buzz in recent weeks, has finally landed on Netflix for the world to see.
Based on the novel of the same name by Elena Ferrante and adapted by Maggie Gyllenhaal, The Lost Daughter is a psychological thriller about motherhood and the consequences of the choices we make.
The film premiered to critical acclaim in mid-2021. Olivia Colman is among those being tipped to win the Best Actress Oscar for her performance, while Dakota Johnson and Jessie Buckley may also be in the running in the supporting actress category.
Newsweek has everything you need to know about the cast of The Lost Daughter.
Meet The Cast of The Lost Daughter
Leda Caruso — Olivia Colman
Oscar-winning actress Olivia Colman leads the cast as British academic Leda Caruso, a middle-aged single woman on holiday who is forced to confront her experiences as a mother when she becomes infatuated with a mother and her young daughter spending time on the same beach.
Speaking to Netflix, Colman described Leda as "tricky to pin down."
Colman explained: "She's very bright and educated and there's a little glimpse when you see Jessie playing the younger Leda talking about her own background, so you know she didn't come from an easy place and she worked her way up to where she got to as a professor of comparative literature. So she's very impressive, but is also honest—Leda admits that she was not a natural mother and she really struggled with the early childhood years."
Colman's well-known credits include The Favorite, The Father, Mothering Sunday, The Night Manager, Peep Show, Fleabag and Broadchurch, to name a few.
Most recently, she starred in The Crown Seasons 3 and 4 as Queen Elizabeth II and convicted killer Susan Edwards in HBO's Landscapers.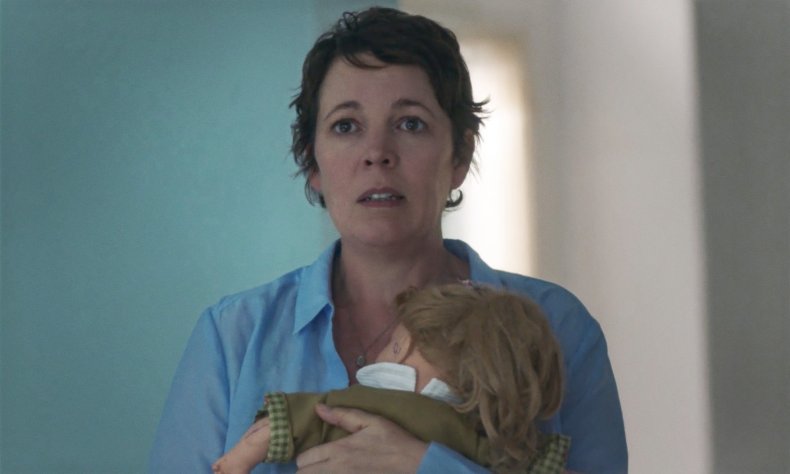 Young Leda Caruso — Jessie Buckley
Jessie Buckley stars as a young Leda Caruso, who appears throughout the film in flashback sequences.
The younger Leda is a young, successful woman who spends her adult years juggling her private life and her academic life, as well as being a devoted mother and wife.
On playing a younger Colman, Buckley shared that to prepare for the role the duo joked about accents and sweating in Italian.
She said: "The extent of our togetherness was: "What accent are you doing and what Italian dirty words do you know already?" That was as far as our research went. I think it really paid off."
Buckley is best known for playing Lyudmilla Ignatenko in Chernobyl, Oreatta Mayflower in Fargo, Marya Bolkonskaya in War and Peace, and Rose-Lynn Harlan in Wild Rose.
She is also well known for her stage career, appearing in productions of The Tempest, A Little Night Music, The Winter's Tale, and Cabaret.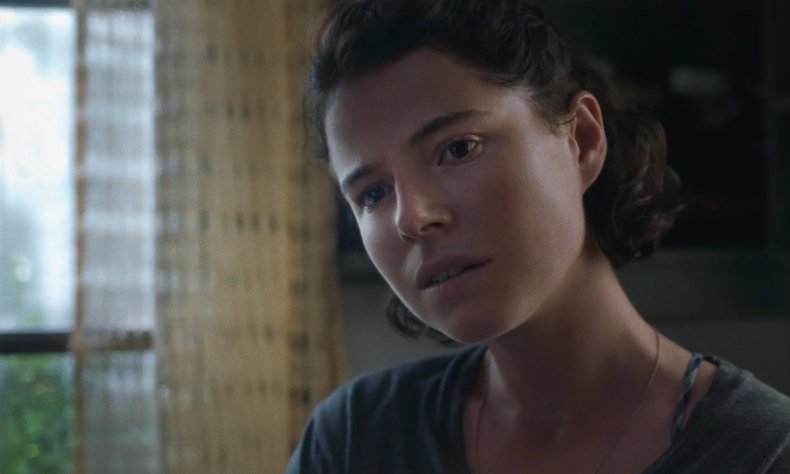 Nina — Dakota Johnson
Dakota Johnson stars as Nina, the matriarch of the young American family who is holidaying on the same Greek island as Leda.
Johnson described Nina as "troubled, drowning, having a difficult, dark moment, feeling frustrated, confused and lost and invisible" when audiences meet her in The Lost Daughter.
Johnson is best known for playing Anastasia in The 50 Shades of Grey film franchise, Nicole in Our Friend, and Eleanor The Peanut Butter Falcon.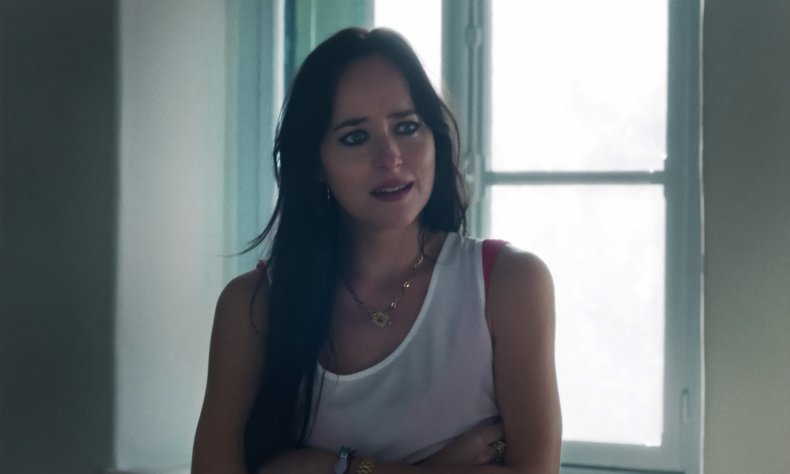 Will — Paul Mescal
Normal People's Paul Mescal portrays Will in The lost Daughter, a young pool attendant working on the Greek island who catches older Leda's eye.
Director Maggie Gyllenhaal shared that she had cast Mescal in the role of Will long before he shot to fame as Connell in Hulu's Normal People.
She said: "Normal People hadn't come out when people were sending me tapes for Will. And, because I'm an actress also, I watched every tape. Paul sent a tape and I was like, "Whoa!" I didn't know about Normal People. He hadn't done anything. And it was so clear to me that he was an excellent actor and so young, but I immediately cast him. I had a meeting with him but it was just really to say hi. I was like, that's my guy, for sure."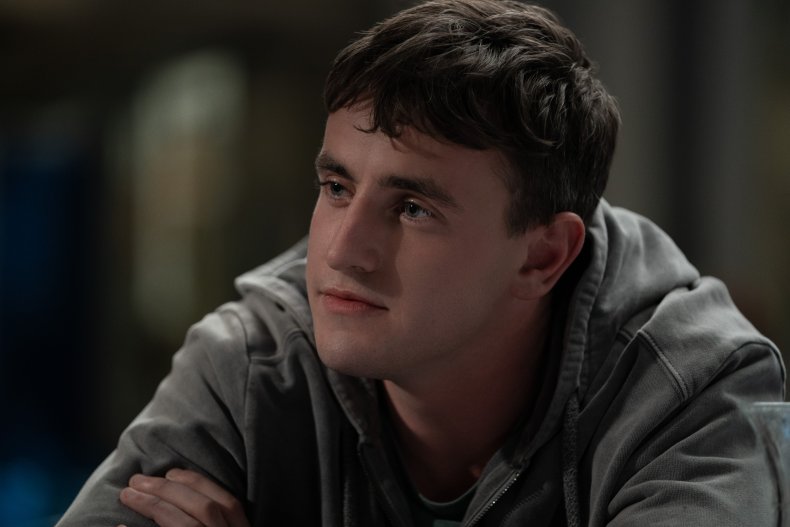 Professor Hardy — Peter Sarsgaard
Peter Sarsgaard plays the role of Professor Hardy, a professor of Italian literature who becomes younger Leda's love interest.
Sarsgaard is director Maggie Gyllenhaal's husband in real life and speaking to Netflix, Sarsgaard shared what it was like to work with his wife as a director.
He reflected: "Maggie can do anything. She's being lauded as a screenwriter for this. She could be lauded as being a director for this as well. I would actually say that I was most amazed by the productorial element. She had her hands on every single thing, not compromising the artistic integrity of the thing from the day she started. With casting, with the location, with what the doll looks like, with what the room looked like, hands-on with the music, with everything."
Sarsgaard's credits include Shattered Glass, The Magnificent Seven, The Killing and The Center of the World.
He is currently starring in the Hulu miniseries Dopesick as Rick Mountcastle and will appear as Gil Colson in the upcoming Batman film, The Batman.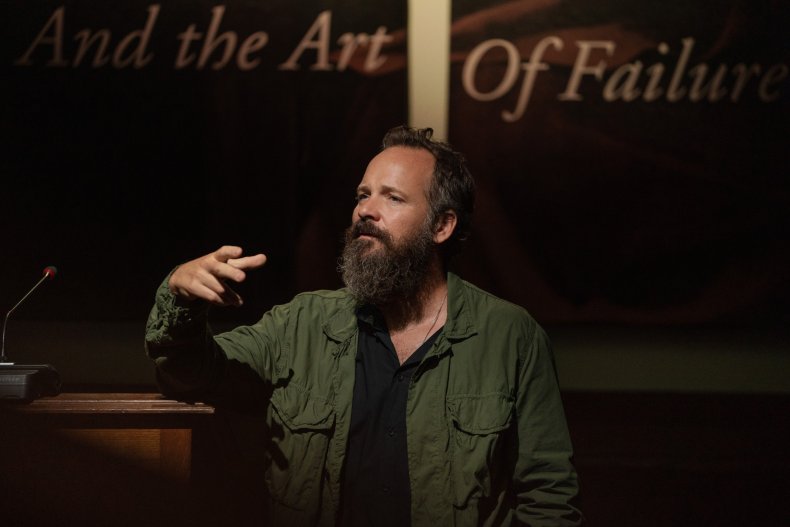 Lyle — Ed Harris
Ed Harris stars as Lyle, the housekeeper of the apartment where older Leda is staying in Greece.
Harris is best known for starring in the films Apollo 13, The Truman Show, The Hours and Pollock.
On television, Harris is well known for playing Miles Roby in Empire Falls and the United States Senator John McCain in the television movie Game Change. He currently stars as Man in Black in HBO's Westworld.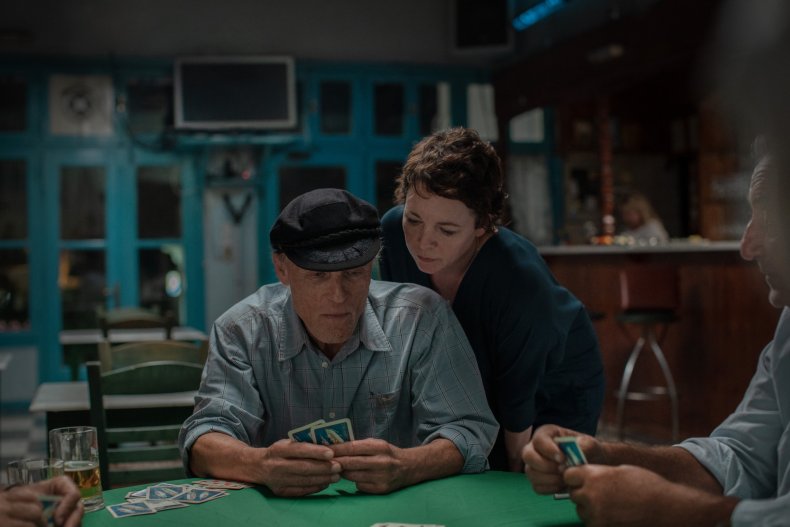 Callie — Dagmara Domińczyk
Succession's Dagmara Domińczyk plays the role of Callie in The Lost Daughter, Nina's pregnant sister-in-law.
Domińczyk is best known for her role as Karolina in Succession, Ellen in The Assistant, Suzanne in Running With Scissors and Nadia in A Woman, a Part.
Other cast members include Ellie James as Bianca, Oliver Jackson-Cohen as Toni, Jack Farthing as Joe, Isabelle Della-Porta as Martha, Athene Martin as Elena and Alba Rohrwacher as Woman.
The Lost Daughter is streaming on Netflix now.