Lost Mayan City Inside Volcano Crater Explored by Archaeologists
A lost Mayan city that collapsed inside a volcano crater has been explored by a team of archaeologists
In the Late Preclassic period—400 BC to AD 250—there was a thriving Mayan city consisting of temples, houses and squares, in the middle of the volcanic Lake Atitlán.
The Atitlán, situated in the highlands of Guatemala, lies within a volcano carter more than 5,000 feet above sea level.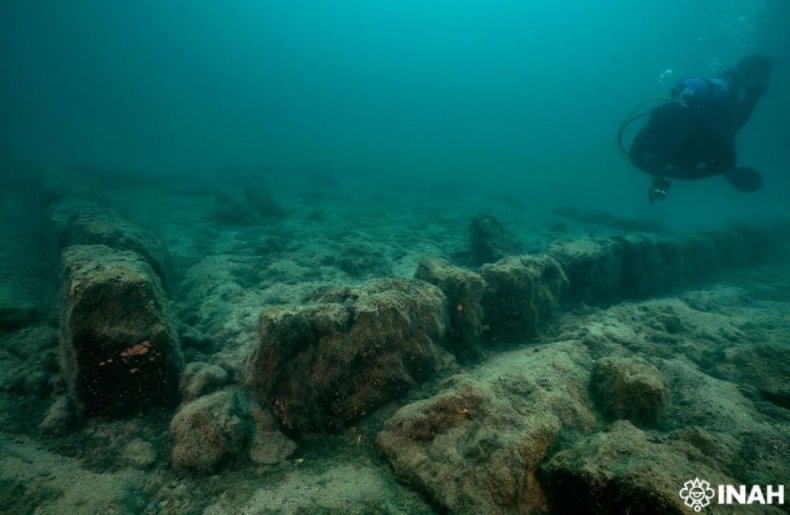 A catastrophic event—which experts believe was caused by some sort of volcanic activity—caused the city to collapse from its bottom, forcing the Mayans to flee.
The city sunk into the Atitlán's depths and now lies 39 and 65 feet below its surface, according to Mexico's National Institute of Anthropology.
The lost city has now been explored by a team of archeologists, lead by the head of the Yucatan Peninsula Office at the National Institute of Anthropology, Helena Barba Meinecke. Their aim was to raise awareness of the city's significance to the Indigenous communities in the region and promote its conservation.
To reach the sunken city, archaeologists carried out dives in the area.
During the dives, archeologists uncovered the remains of buildings, columns, ceremonial stones, and other structures. From these findings, they were able to generate a planimetric map of the city.
"With this planimetry we can speak of a site that measures at least 200 by 300 meters," Barba Meinecke said in a statement.
Archaeologists also gathered silt samples from the lake in order to assess the dynamics of the site and measure its decay over time. The exploration also laid "groundwork" for a cultural center, which will allow people to explore the site virtually.
It is not the only archeological site within Lake Atitlán. There are two other lost cities lying below the surface of the lake called Samabaj and Chiutinamit.
Samabaj was the first underwater Mayan ruin excavated in Guatemala in Lake Atitlán. It was discovered in the late 1990s by a scuba diver who had been exploring the lake's depths, according to a Reuters report from 2009.
The Maya civilization was an Indigenous society stretching across what is now Mexico and Central America. The earliest settlements in the Maya civilization were formed during the Preclassic period. The civilization thrived over 3,000 years until it mysteriously disappeared. Towards the end of the ninth century, cities were gradually abandoned one by one.
To this day, experts are still unsure what happened but there are several theories. One is that ongoing warfare among cities caused a breakdown, while others believe that the civilization could no longer thrive in the surrounding environment.