What Is Lotería? Google Celebrates Mexican Card Game With Multiplayer Interactive Doodle
In celebration of the anniversary of the traditional Mexican card game, Lotería, Google has created its second-ever multiplayer experience as today's Google Doodle.
According to Google, gamers can play with their friends in a private match or match with random users across the world. The game was created by five Mexican and Mexican-American illustrators to "reimagine many of the classic Lotería game art for the Doodle." Mexican YouTube personality Luisito Comunica plays the role of the game card announcer.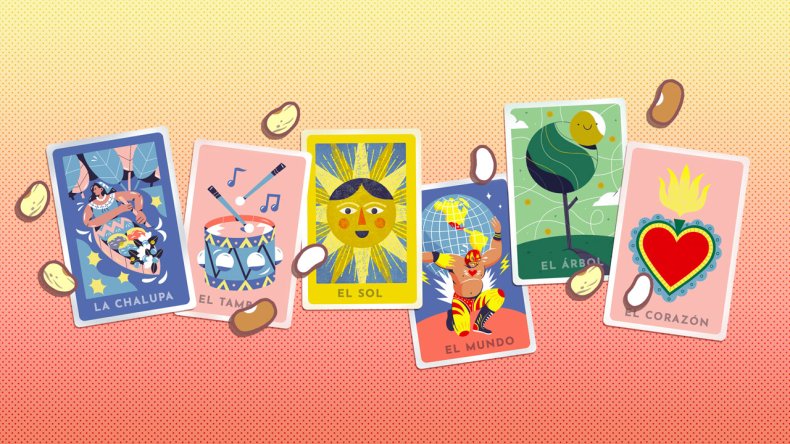 Lotería, which means "lottery" in Spanish, is similar to numbers game Bingo. The game sees each player have a card with 16 images on them. The aim of the game is to match four images in a row or column on the "tabula" with the cards picked from a deck of 54 by the announcer. Once someone has four matching images—vertical or diagonal row, squared pattern, any other previously specified pattern—marked by token beans, they shout "Lotería!"
The game is still popular today across Mexico and Latinx communities, according to Google Doodle's global marketing lead, Perla Campos. It is used as a Spanish language teaching tool or for family gaming nights.
Institutions such as NASA's Johnson Space Center's Hispanic Employee Resource Group have used the game to promote its communication priorities. In a pilot run in 2015, the cards were redesigned with a fun fact on the back of the cards in English and Spanish to inform about NASA's history, present and future explorations. It was used with 3,000 middle school students and educators taking part in the game during the Hispanic Engineering, Science and Technology week.
The imagery on the cards itself is also considered Mexican folk art.
"Originating in Italy in the 15th century, Lotería first moved to Spain before reaching Mexico in 1769," writes Campos. "Characters on cards have been updated several times to reflect the social norms of the time.
"One of the best known versions was created in Mexico by Frenchman Clemente Jacques in 1887. The 'Don Clemente Gallo' edition, copyrighted in 1913, features the imagery that's become a form of folk art synonymous with Lotería," explains Campos on the Google Doodle blog.
The interactive Doodle can be accessed by clicking the "play" symbol on the second card. Gamers are then taken to a "tabula" and given instructions on how to play and how they need to win.
The game was copyrighted 106 years ago today, which is why it is appearing as today's Google Doodle. Happy anniversary Loteria!