Michigan Couple Who Won $500,000 Lottery Charged in Daytime Burglary Spree
A Michigan couple that won a half-million dollars in the state lottery just three years ago are now being accused of burglarizing multiple homes in the last few months to steal valuables from the elderly.
Stephanie Harvell, 28, and Mitchell Arnswald, 29, have both been charged with a single count of second-degree home invasion and possession of burglary tools. "I think there will be more charges coming, but we're just trying to figure out everything," said Bay County Sheriff Troy R. Cunningham.
In January 2016, the couple hit the jackpot when Harvell purchased a $5 "Hot Ticket" scratch-off ticket that turned out to be the top winner, earning them a $500,000 payout. Ironically she and Arnswald had just received an eviction notice earlier that same day.
"I cried like a baby when I saw what I'd won," Harvell told Michigan Lottery Connect at the time, adding that they planned to purchase a house and new car and start college funds for their two daughters.
A few months later, Arnswald purchased a home in Bangor Township for $80,000, according to Michigan Live.
But the windfall didn't solve all their problems: According to the Bay County Treasurer's Office, Harvell owes $4,863.50 in delinquent property taxes.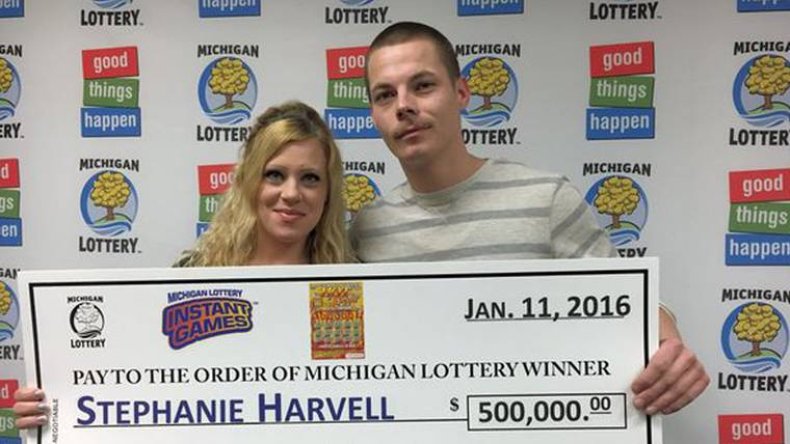 On August 29, a home in Merritt Township was burglarized and police tracked down a Ford SUV that matched the suspect's vehicle. Inside were Harvell and Arnswald.
Deputies searched the vehicle and found items matching those stolen from the Merritt Township house, as well as rubber gloves and crowbars, according to Cunningham.
After obtained a search warrant for the couple's Bay County home, police they reportedly recovered items linking them to other daylight break-ins over the last two months.
"People were more afraid to leave their house to go camping, or leave for the weekend," Cunningham told Oxygen. "They were scared they were going to come home and find out they were victims of a home invasion."
Child Protective Services has been brought in to take custody of the duo's two daughters.
Arnswald and Harvell, who have yet to meet their $50,000 bond, are scheduled for preliminary court hearing on September 18.
While winning the lottery can be a boon, it can also lead to misfortune.
In 2017, Ronnie Music Jr. of Georgia was sentenced to 21 years in prison after he invested part of his $3 million lottery winnings in a crystal meth ring.
In 2012, Michigan lottery winner Amanda Clayton was arrested for allegedly collecting food stamps and public health insurance despite winning a $735,000 jackpot. Clayton, 25, was convicted of fraud and sentenced to nine months probation. Later that year she was found dead of an apparent drug overdose.
In 1998, security guard Jim Hayes won California's $19 million SuperLotto jackpot, but half of his winnings were taken by his ex-wife. The remainder was quickly drained by a heroin addiction and, by 2018, Hayes was in prison on four counts of bank robbery.