Fox Host Lou Dobbs Says GOP Senator Performed 'Benedict Arnold Impression' By Attacking Soleimani Briefing
Fox Business host Lou Dobbs compared a Republican senator to the Revolutionary War turncoat Benedict Arnold after the congressman criticized an intelligence briefing on the assassination of Iranian General Qassem Soleimani.
The anchor of Lou Dobbs Tonight said senator Mike Lee of Utah performed a "Benedict Arnold impression" when he told reporters on Wednesday afternoon that he would support a resolution limiting President Donald Trump's ability to take military action against Iran after what he called the "worst briefing" he had ever seen on a military issue.
Trump administration officials invited lawmakers to a classified intelligence briefing on Iran on Wednesday, a day after Iran responded to the killing of Soleimani by launching missile strikes on U.S. forces in Iraq.
Following the briefing attended by Secretary of State Mike Pompeo and CIA Director Gina Haspel, among others, Sen. Lee and Kentucky Republican Rand Paul vented their frustrations to the media, with Lee saying he found the closed-door meeting "insulting and demeaning."
The chart below, provided by Statista, shows the majority of Americans disapprove of President Trump's handling of Iran.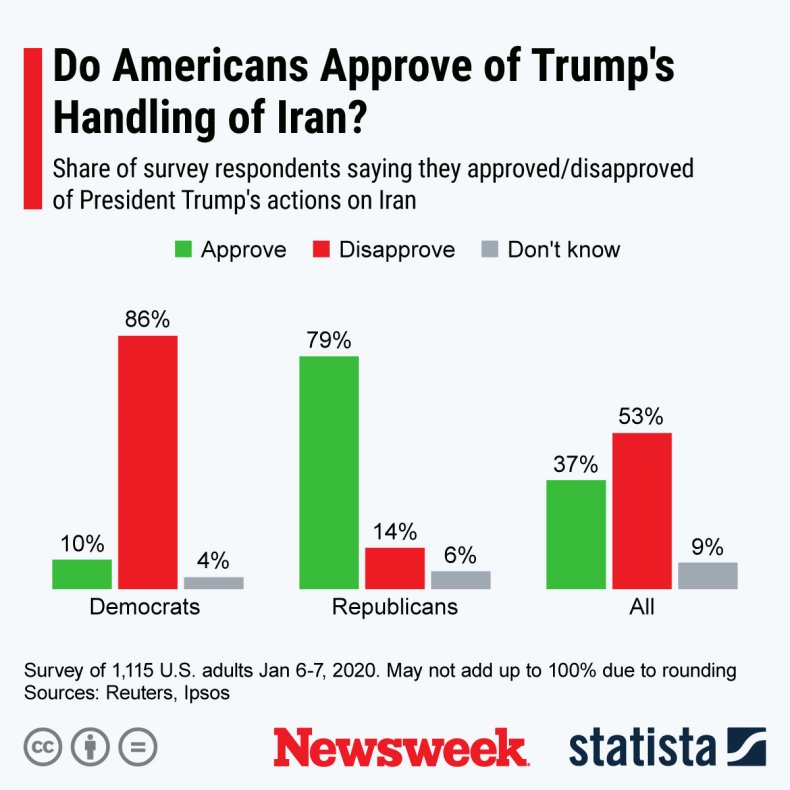 Opening his attack on Sen. Lee during his Wednesday night show, Fox Business host Dobbs said: "Senator Lee's Benedict Arnold impression and his announcement follows a classified military briefing on Iran that Lee called the worst he has ever seen."
He then played a clip of the Utah senator telling reporters that officials left the briefing "while they were in the process of telling us that we need to be good little boys and girls, and run along and not debate this."
"Well he's certainly not having a problem criticizing anyone, is he?" Dobbs said in reaction to the footage. "Senator Lee, who seems to know a lot about not debating things in public, still refuses to hold a public debate in the Senate on his bill, Senate bill 386."
The bill known as the Fairness for High-Skilled Immigrants Act of 2019 was put forward by Sen. Lee in February last year, and has so far received 35 cosponsors. If brought into effect, it would scrap per-country caps on employment visas, which block any one country from receiving more than 7 percent of all available green cards each year, and increase the cap on family visas.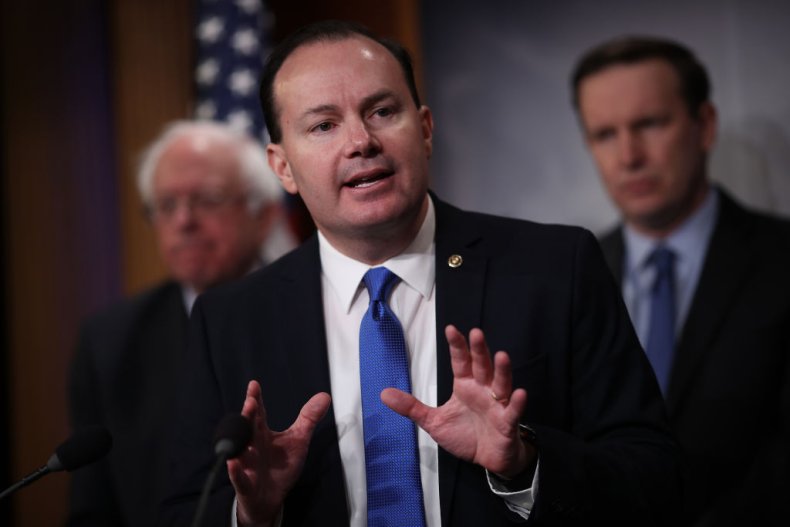 Dobbs argued the bill would lead to a "major influx" of "Indian H-1B visa workers" into American workplaces at "lower wages," and accused Lee of trying to work out a "backroom deal" with Sen. Dick Durbin and others to pass the legislation by unanimous consent without votes.
"He's not only not interested in the national interest, just the corporate interest, and he is also not shy about being as hypocritical a Senator as sits in the august chamber," Dobbs added.
Newsweek attempted to contact the office of Sen. Mike Lee for comment but could not reach a representative.
Fox Host Lou Dobbs Says GOP Senator Performed 'Benedict Arnold Impression' By Attacking Soleimani Briefing | U.S.