Fox Host Lou Dobbs Calls for New Attorney General to Investigate 'Liberal' SCOTUS Chief Justice John Roberts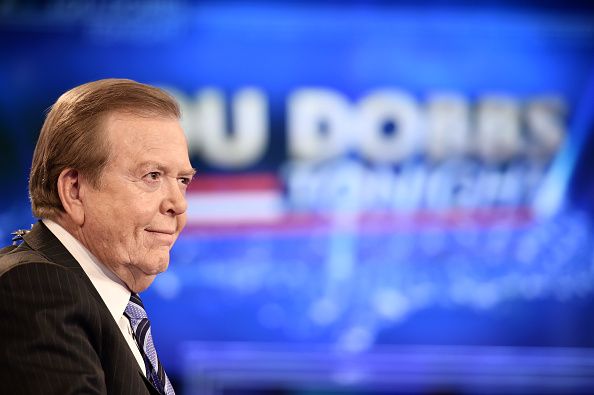 Fox Business Network host Lou Dobbs has called for newly confirmed Attorney General William Barr to launch an investigation into Supreme Court Chief Justice John Roberts for his role in the special counsel Robert Mueller's Russia probe.
"Let me be very clear, I'm not suggesting he's the villain," Dobbs said of Chief Justice Roberts on Thursday during a segment of Lou Dobbs Tonight. "He's one of, I think, many suspects that should be investigated thoroughly by William Barr."
Barr will replace ousted Attorney General Jeff Sessions after being confirmed by the Senate on Thursday by a vote of 54 to 45. Barr previously served in the role of attorney general in the George H.W. Bush administration.
The comment came while Dobbs was discussing the latest revelation that former acting FBI Director Andrew McCabe ordered the investigation into whether Donald Trump obstructed justice, an inquiry the White House slammed as "completely baseless."
McCabe said that the order came out of concern that the president would try to undermine the special counsel's probe into Russian election meddling and possible collusion with his campaign.
"I was very concerned that I was able to put the Russia case on absolutely solid ground, in an indelible fashion," McCabe told CBS's Scott Pelley in an interview that will air in full on Sunday. "That were I removed quickly, or reassigned or fired, that the case could not be closed or vanish in the night without a trace."
The Fox Business host said that Trump has been "hounded, harassed attacked, assaulted" during the investigation, which he called a "conspiracy." He also accused McCabe of creating "out of whole cloth this ridiculous narrative" without sufficient evidence.
"The only, unlawful acts in this thing have been revealed to be the acts of the investigators. These corrupt excuses for public servants sitting on the most - two of the most of prestigious organizations in our government," he said.
The attention then turned to Chief Justice Roberts, a reliably conservative figure on the high court appointed by former President George W. Bush, who has chosen all of the judges currently serving in the Foreign Intelligence Surveillance Court.
Dobbs went on to call Roberts a "liberal" based on his judicial appointments on the FISA circuit. The court is responsible for issuing warrants allowing surveillance of American citizens who are suspected to be working as foreign agents.
In 2016 the FBI was granted a monumental FISA warrant to spy on Trump's former election campaign adviser Carter Page. At the time the warrant was one of the strongest pieces of evidence that indicated a Trump adviser was in touch with Russian agents during the 2016 campaign, but Republicans claimed that the warrant had been improperly obtained.
"This is a chief justice who put all left-wing judges into those FISA courts. It looks like a complicity that goes beyond. And only for the sake of appearances should, at the very least, no chief justice put all liberals onto any court," Dobbs added.