Loudermilk Says Tour Was Taking Pictures of Children's Artwork, Not Tunnels
Representative Barry Loudermilk has said that a group he took through the Capitol complex on January 5, 2021 were simply taking pictures of artwork as he rejected the insinuation he led a reconnaissance tour on the eve of the insurrection.
On Wednesday, the January 6 committee requested an explanation from the Georgia Republican about surveillance footage showing him taking a group through the complex, with a man seen photographing security points and stairwells.
The committee has shared footage purportedly showing the same man threatening top Democrats. After the riots on January 6 by supporters of ex-President Donald Trump, some Republicans were accused by Democrats of giving tours to people who later went on to storm the Capitol.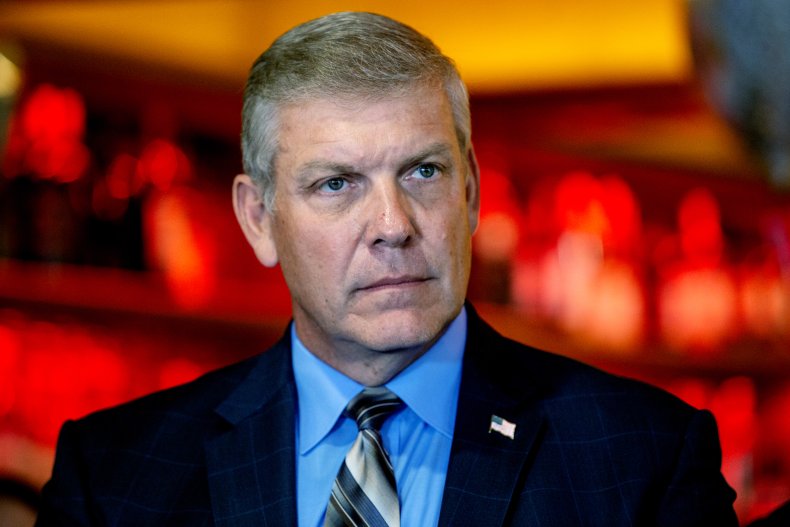 While the congressional committee has requested a meeting with Loudermilk, U.S. Capitol Police concluded that "there is no evidence" he led a tour with Trump supporters trying to learn more about the Capitol complex.
On Monday, Capitol Police Chief Tom Manger wrote in a letter to Rep. Rodney Davis (R-IL) on the House Administration Committee "we do not consider any of the activities we observed as suspicious."
Loudermilk told Fox News on Wednesday that the conclusion of the Capitol Police "doesn't fit the narrative that the January 6 committee wants to come up with."
"Why they've targeted me? I don't know," he said. "People who come to Washington, D.C. like these people who've never been there before, they're excited. They're taking pictures."
Loudermilk told anchor Laura Ingraham people were allowed to take photos anywhere on the lower level of the building where they were, "except for right around the House chambers."
"People take pictures there all the time," he said. "Why doesn't the January 6 committee show the entire video because they're taking pictures all up and down the hallway.
"When the guys near the tunnels go into the Capitol, that's where they hang the artwork that school children give. And at the other end, there [are] the trolleys, the trains and the kids wanted to see the trains that take the congressmen to the House chambers. That's all this was."
Also on Wednesday, Loudermilk gave a similar explanation to reporters at the Capitol of images of the man taking photos of an underground security checkpoint, saying there were children in the group who wanted to see "the little trains." This refers to the small subway system that connects the U.S. Capitol building to adjacent House and Senate office buildings.
Manger's letter said that the group of constituents entered the Cannon House Office Building where there were series of exhibits. Loudermilk then separated from the group and left the building alone. "At no time did the group appear in any tunnels that would have led them to the U.S. Capitol," the letter said.
Newsweek has contacted the January 6 committee for comment.