Louis C.K. Is a 'Genius,' Club Owner Says, After Comedian Slams Parkland Shooting Survivors in Leaked Audio
Beleaguered comedian Louis C.K. is a "genius," according to James Dolce, owner of Governor's Club where the comedian performed on December 16. Audio of Louis C.K.'s standup went viral on Sunday after it leaked. He mocked the younger generation, first poking fun at gender identity before taking aim at survivors of the Parkland, Florida, shooting, where 17 students and faculty at Marjory Stoneman Douglas High School were killed. It was the deadliest school shooting in U.S. history. While many people were offended by C.K.'s act, Dole argued that's what comedy is about—and the room loved it.
"It's comedy. You know who you're coming to see," Daily Beast reporter Kevin Fallon tweeted on Monday about Dolce's quote. "The people who were upset about it probably weren't at the show. He got a standing ovation. He brought the house down. He's a genius." Dolce was happy to have Louis C.K. perform at Governor's Club. "I have no regrets at all. He's a legend ion the comedy biz. To have a legend play my club is an honor," he said.
In his act, Louis C.K. mocked the younger generation for being more concerned with gun control than getting high off drugs like his generation. "I don't know. They testified in front of Congress, these kids," Louis C.K. says. "Like, what the f***. What are you doing? You're young. You should be crazy. You should be unhinged, not in a suit saying, 'I'm here to tell'… f*** you. You're not interesting cause you went to a high school where kids got shot. Why does that mean I have to listen to you? How does that make you interesting? You didn't get shot. You pushed some fat kid in the way and now I got to listen to you talk?"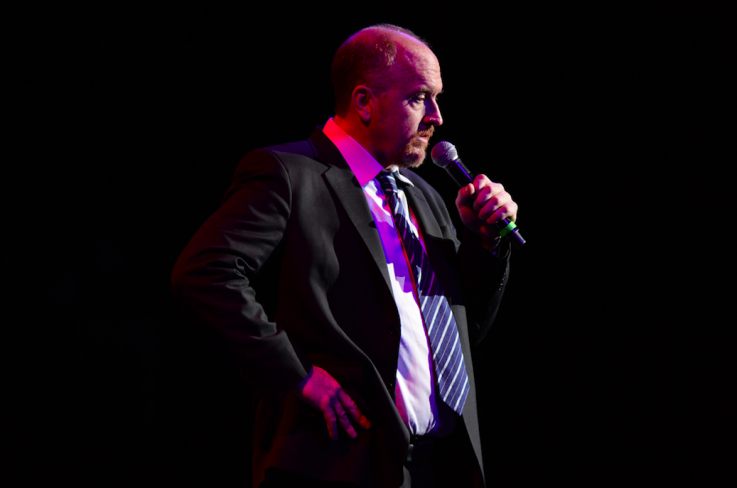 Controversy isn't something he's unfamiliar with. The comedian admitted that allegations of sexual misconduct were true after five women came forward in November 2017, as the #MeToo movement first started to gain momentum.
"At the time, I said to myself that what I did was okay because I never showed a woman my d*** without asking first, which is also true. But what I learned later in life, too late, is that when you have power over another person, asking them to look at your dick isn't a question. It's a predicament for them," Louis C.K., 51, said at the time. "The power I had over these women is that they admired me. And I wielded that power irresponsibly."
Louis C.K. Is a 'Genius,' Club Owner Says, After Comedian Slams Parkland Shooting Survivors in Leaked Audio | Culture