Louis C.K. Joke Mocks Sexual Misconduct Scandal: 'I Like To Jerk Off, and I Don't Like Being Alone'
Louis C.K. joked about masturbating in front of women at a comedy set at the San Jose Improv club in San Jose, California on Wednesday, The Daily Beast reported. The comedian was exposed in the #MeToo movement when five women claimed he'd asked to masturbate in front of them, and in some cases, got naked and did. Louis C.K. admitted to the allegations in 2017.
The joke seemed to directly address the allegations. "I like to jerk off, and I don't like being alone," the comedian said.
Louis C.K.'s appearance at the Improv was controversial to begin with. Attendees of the ticketed event were met with upwards of 30 protesters outside of the theater. The protests were led by a female-empowerment group, Enough Is Enough Voter Project, according to Mercury News. One protester was punched by a comedy set attendee, Datebook added.
After the allegations and the comedian's seemingly sincere apology, he stated he'd step back from his career and "listen" instead of speaking. It was a year after the allegations surfaced that Louis C.K. returned to the stage to try out new material. Since his first show back in late 2018, he's been met with backlash.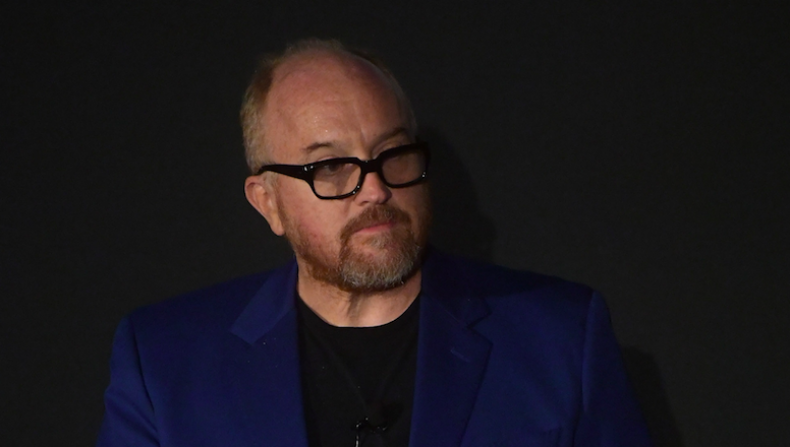 The comedian was slammed for joking about Parkland school shooting survivors at a comedy set in New York in December. "You're not interesting because you went to a high school where kids got shot," the comedian said, as reported by Variety. "Why does that mean I have to listen to you? How does that make you interesting? You didn't get shot. You pushed some fat kid in the way. Now I gotta listen to you talking?"
In the same set, he mentioned his uncomfortable year after the allegations were reported by the New York Times. He then joked about some people's preferred pronouns not aligning with their birth gender. "They tell you what to call them. 'You should address me as they them because I identify as gender neutral,'" he said. "'You should address me as there because I identify as a location and the location is your mother's c***.'"
Later, he allegedly did a long bit about people who are mentally disabled and used the r-word. All of the jokes were met with lengthy internet backlash and claims the comedian did not "take time to listen" as he promised in his apology.