Louis Farrakhan Makes 'Anti-Termite' Jewish Joke, Supports Kanye West's Slavery Comments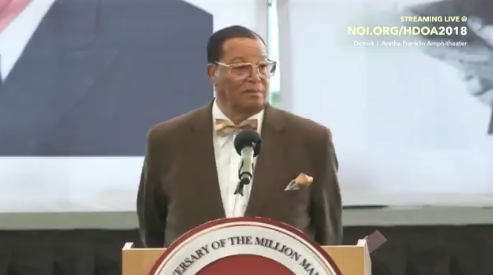 Nation of Islam leader Minister Louis Farrakhan posted a clip of a Sunday speech in Detroit, in which he compared Jews to termites and claimed both white and Jewish people are working against him.
Farrakhan made the comments in Detroit during Sunday's 23rd anniversary event for the 1995 Million Man March in Washington, D.C. Speaking at the recently renamed Aretha Franklin Amphitheatre, the controversial minister said he supports Kanye West's remarks about repealing the 13th Amendment. Farrakhan had also followed up an anti-Semitic rant in May by making a joke about being "anti-Termite."
"White folks don't like Farrakhan," the Nation of Islam leader said. "Some of them respect me. To the members of the Jewish community that don't like me, thank you very much for putting my name all over the planet because of your fear of what we represent. I can go anywhere in the world and they've heard of Farrakhan. Thank you very much."
"I'm not mad at you because you're so stupid," Farrakhan continued. "So when they talk about Farrakhan, call me a hater, you do what they do, call me an anti-Semite. Stop it, I'm anti-Termite."
In May, Farrakhan lost his Twitter verification status after ranting about "satanic Jews" during a three-hour speech. "I wonder, will you recognize Satan? I wonder if you will see the satanic Jew and the synagogue of Satan...because Satan has deceived the whole world."
Farrakhan also claimed former President Barack Obama was "under Jewish influence" and discussed Jewish Hollywood producers forcing aspiring actors to have anal sex to get roles.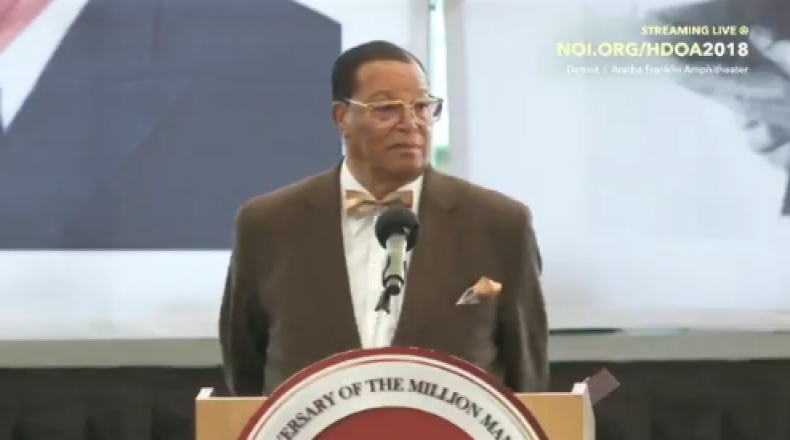 About Kanye West's recent visit to praise President Donald Trump at the Oval Office, Farrakhan said, "White folks say slavery is finished, unless you commit a felony, then all your rights as a citizen are gone. That's a trap door. Kanye was right.... Kanye was right to bring that up, he may not say it in the best manner."