Living History: Louis Vuitton Heir Carries on Family Tradition in France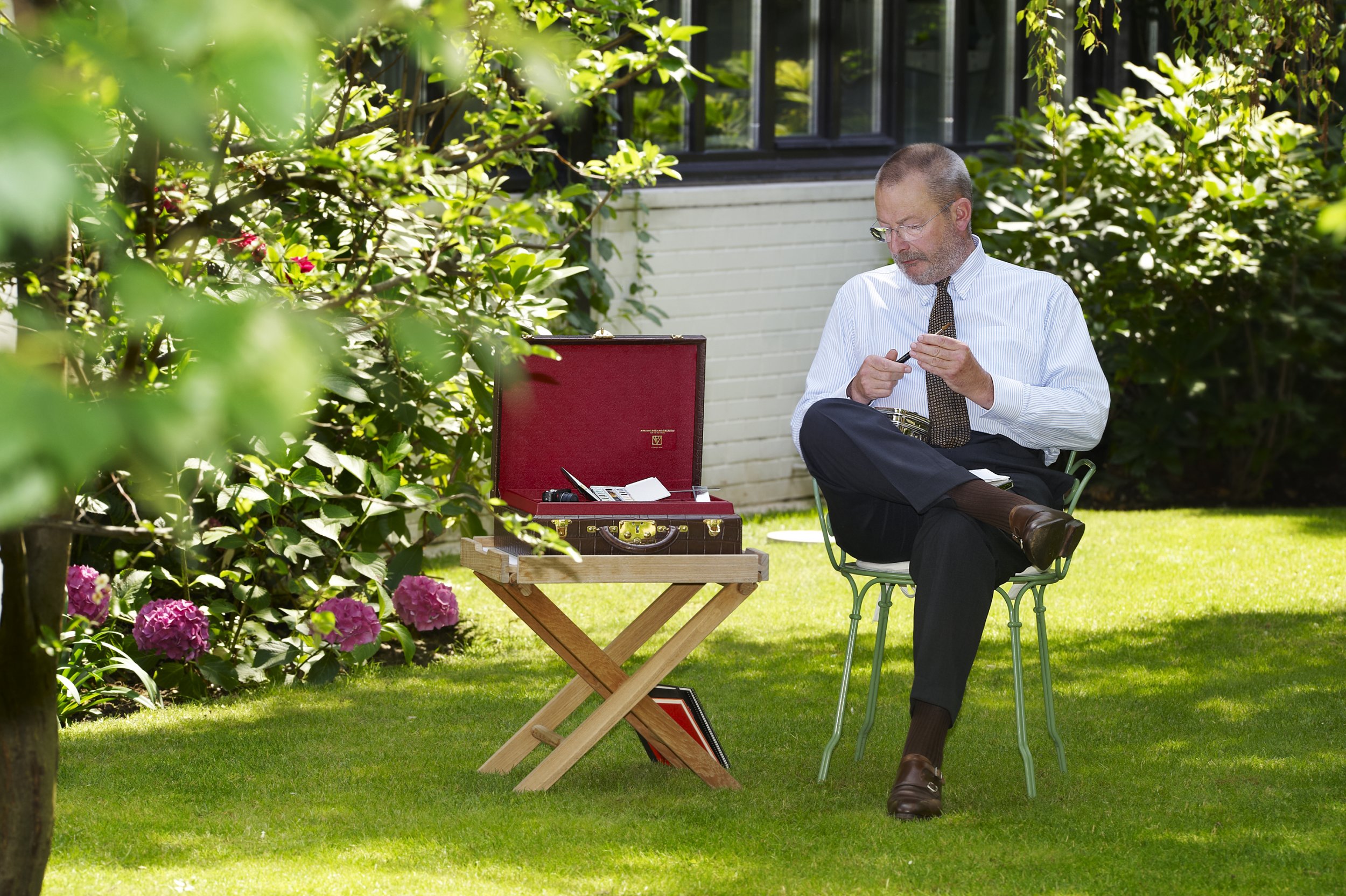 Louis Vuitton means the same thing wherever you are in the world—except in Asnières-sur-Seine, France. Here, it just means the locals. A small village by the river before it became a suburb of Paris, Asnières was the subject of paintings by Seurat and Van Gogh. It was also where, in 1859, the founding family of the luxury luggage–maker decided to open its factory, right next door to the comfortable family villa. It remained the company's only workshop until 1977.
Today, it is Patrick Louis Vuitton who presides over a walled compound that would still be recognizable to his great-grandmother—not least because Asnières is still home to the factory that makes all of Louis Vuitton's special orders, as well as the 2,200 or so pieces of the traditional hard-sided suitcases and trunks it sells annually. The site also houses the bulk of the Vuitton archive, and it includes the recently opened La Galerie, a public space devoted to the history of the marque.
RELATED: Camel hair sports coats are making a comeback
The compound also still feels like a home. The grandest of the Vuitton stores around the world are called maisons, but some are so big that palais might be a more accurate description. Maison is, however, the perfect term to capture the truly domestic scale of Asnières. Off the villa's entrance hall is a dining room with a table that can seat a dozen people. It leads into an art nouveau drawing room, with a splendidly curvaceous fireplace and trailing tendrils of ivylike plasterwork that make it a little like sitting inside a bottle of Perrier Jouët Cuvée Belle Epoque champagne. But even here the feel is grounded rather than grand, not least because you can see through the extravagant stained-glass windows to the solid practicality of the workshops: two two-story buildings with cream plasterwork and vaulted, black-framed windows, to which the house is joined by a glass-covered arcade.
That Asnières still feels like a family home is partly thanks to Patrick Louis Vuitton. A gentle-looking man with close-cropped hair, he wears, sewn onto the lapel of his corduroy jacket, the green-and-red ribbon of the Mérite Agricole—a sort of Légion d'honneur for farmers and countrymen. His family home may now be a part of Paris—it's a 20-minute drive from Vuitton's multistory maison on the Champs-Élysées—but the man has a distinct feel of rus in urbe. He hunts deer and regularly travels to what he describes as the "cradle of the family"—the Jura, the region of eastern France that his great-great-grandfather left when he headed to Paris in the mid-19th century—to look up Vuitton cousins and visit his favorite pipe-makers.
Patrick was born in 1951, grew up in the Asnières villa and began work in the factory next door. His great-grandmother, who died in 1964 aged 104, was Louis Vuitton's daughter; she used to tell Patrick stories of the family's past and of the historical events she experienced, including the siege of Paris in the 1870s. It's now Patrick's job to keep the family's memories alive, and with his tales of early mornings as a youngster in the factory, heating the foul-smelling bone and fish-based glue, he transports his listeners back to a time when Vuitton was much smaller than today. He says that during the 1960s and 1970s, the entire business consisted of one shop in Paris and another in Nice, while administration and manufacturing employed in total between 120 and 130 people. Much has changed since then, not least the glue, which no longer stinks of fish and doesn't need to be heated before you can use it.
Patrick has worked 43 years for the company, both under the ownership of his family and latterly of the LVMH conglomerate, and his knowledge is encyclopedic. With wry amusement, he tells the story of how he was once being interviewed on Japanese TV when the journalist handed him a vintage Louis Vuitton briefcase and asked him to identify its age. He inspected it inside and out, then he not only gave the correct year of purchase but said it had been bought in July, in Nice—though he does admit he was a couple of weeks off the exact date.
That rather impressive trick speaks to a lifetime of craftsmanship. Under the supervision of Patrick, the carpentry team builds poplar frames for all the traditional pieces of Louis Vuitton luggage, on top of which the famous protective canvas skin is mounted. The compound is also where special orders are executed, roughly 300 of them a year. There have been some spectacular commissions, including a trunk for a Taiwanese customer that contained a DVD player, film library and espresso machine, complete with solar panel so that the owner could enjoy a coffee and a movie wherever he happened to find himself. With Patrick's guidance, the workshops have shown themselves capable of making medicine chests, keepsake boxes for a child's milk teeth, a casino trunk (including a roulette wheel)—indeed, trunks designed for most activities and interests, including tattooing, hairdressing, collecting Barbie dolls and playing croquet. They've made cases to hold guitars and cigars, cases to hold bottles of champagne and to hold bottles of Ricard pastis—the latter made by the workshops for Patrick on his 60th birthday.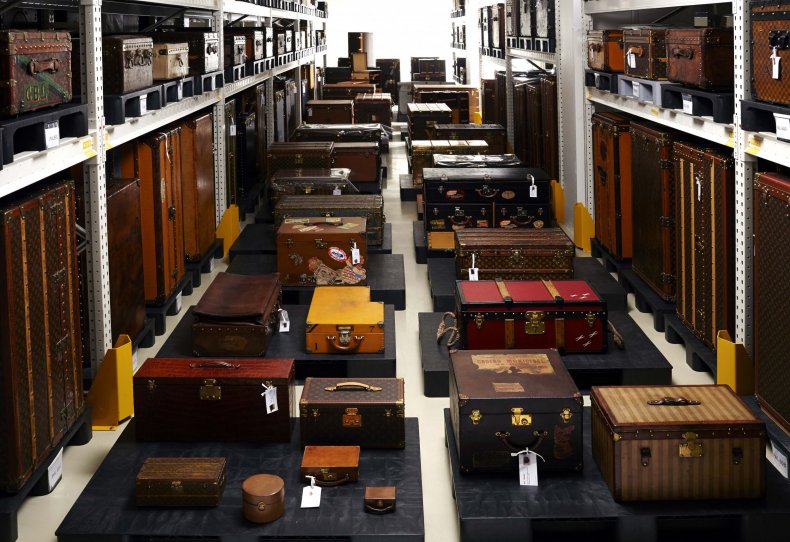 Extraordinary though some of them may sound, thanks to Patrick's sketches, suggestions and accumulated experience, these pieces of luggage are remarkably practical. Whether it is a trunk specifically designed to meet the demands of a Chinese tea ceremony (one was being made when I toured the workshops) or the adaptation of an existing model with a fastening here, a pocket there or a compartment elsewhere to transform it into the perfect travel companion, one thing is always true: The best bit about asking Louis Vuitton for a specially ordered bag or trunk is the chance to spend a little time with its founder's great-great-grandson.
If You Go: Le Galerie Louis Vuitton, Asnières-Sur-Seine, France; by appointment only at +33 (0) 9 77 40 40 77 . For special orders, click here.
Read more at Newsweek.com:
— Why the world still loves Gerald Genta's watch designs
— 19th-century machine churns out socks built to last
— Estate tweeds get loud