Louis Vuitton and League of Legends Fashion Collection: Where to Buy and When Is It Released?
French fashion house Louis Vuitton has launched a capsule collection in collaboration with video game League of Legends. The 34-piece collection, branded LVxLoL, was designed by Nicolas Ghesquière and prices range from $170 to $5,650.
The LVxLoL collection features 13 looks made up of clothing items including a leather jacket, a crop top, and cycling shorts. Additionally, it includes accessories like sneakers, bags, and a diamond bracelet.
Some pieces feature a camo print in blue and gold—the colors of the League of Legends logo—over the Louis Vuitton monogram. Others feature League of Legends character Qiyana wearing her "prestige skin," designed by Nicolas Ghesquière, which was released during the World Championship.
As well as the Louis Vuitton skin, the designer brand also created a case for the 2019 League of Legends World Championship trophy.
Where to buy the Louis Vuitton and League of Legends collection?
The collection can be ordered directly on the Louis Vuitton website and orders will be shipped between February and March 2020. The collection was released on Monday, December 9, and some pieces are now unavailable online. The LVxLoL collection is limited edition but the Louis Vuitton collection requests that customers check the website or call for availability.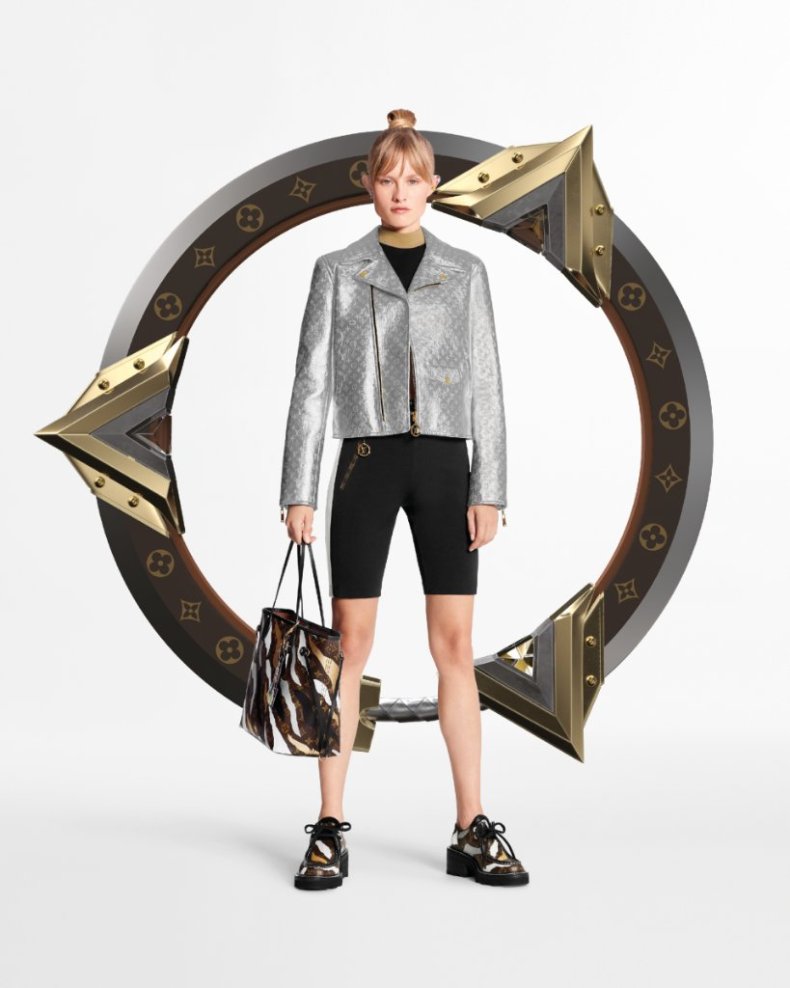 Items in the Louis Vuitton and League of Legends collection
Monogram BB Bandeau – $170
LV Diamond Bracelet – $345
Tambour Camoflague Monogram Strap – $420
Monogram Square – $485
Key Holder and Bag Charm – $515
LV Iconic 30mm Reversible Belt – $575
Short-Sleeve T-Shirt – $670
Party Palm Springs Bracelet – $730
Bucket Hat – $730
Monogram Shawl – $875
Cycling Shorts – $940
Short-Sleeve T-Shirt – $1,010
LV Beaubourg Platform Derby – $1,060
Short-Sleeve Crop Top – $1,070
Sleeveless Peplum Top – $1,140
Leggings – $1,140
LV Archlight Sneaker – $1,140
Star Trail Ankle Boot – $1,330
Jogging Pants – $1,610
Speedy BB – $1,630
Neverfull MM – $1,760
Bumbag – $1,890
Embroidered T-Shirt Dress – $2,010
Short-Sleeve Mock Neck Fitted Dress – $2,280
Palm Springs Mini – $2,310
Bumbag Dauphine BB –$2,400
Zip-Up Hoodie – $2,420
Boite Chapeau Souple – $2,600
Bubble Skirt – $2,680
Connected Watch Tambour Horizon Monogram Brown 42 – $3,050
Long Hooded Parka – $4,450
Leather Biker Jacket – $5,650
In a statement, Louis Vuitton described Qiyana's LV skin: "Qiyana, also known as the Empress of the Elements, wears a total look designed by Nicolas Ghesquière, Louis Vuitton's Artistic Director of Women's Collections.
"Reminiscent of recent silhouettes seen on the runway, the look combines a cropped top and high-waisted pants with signature Louis Vuitton accessories such as the Dauphine bag and Star Trail boots. Qiyana's ring blade has also been reinterpreted with the emblematic Monogram and V-shaped ornaments."
Louis Vuitton has also collaborated with Square Enix in a marketing campaign featuring Lightning from the Final Fantasy series. Lightning modeled pieces from Louis Vuitton's Spring-Summer 2016 collection.