Louis Vuitton Stores Stung by Robberies, Losing Hundreds of Thousands in Merchandise
Thieves robbed a Chicago-area Louis Vuitton store Wednesday and made off with at least $120,000 in merchandise, police said.
This marks the latest in a string of robberies of Louis Vuitton stores in the suburbs of Chicago over the past few months.
Police stated that at least 14 masked men ran into the luxury outlet at the Oak Brook Mall in suburban Oak Brook, Illinois, approximately 16 miles west of Chicago.
"Once they entered the store, they pulled out the garbage bags from their coats and started filling them with merchandise," Oak Brook Police Chief James Kruger said.
Surveillance footage captured the incident as it unfolded and shows the robbers making quick work of the store.
The men then reportedly made their getaway in three separate cars, at least one of which was believed to be stolen. This stolen vehicle was located by law enforcement, but the merchandise was nowhere to be found.
Oak Brook Police stated that they are following tips from witnesses and attempting to track down license plates in an effort to locate the thieves. They have also formed a task force with the Illinois attorney general's office to try to halt these types of incidents.
People who were near the store at the time of the robbery were reportedly stunned at the brazen nature of the crime.
"You don't expect that kind of thing to happen outside of the city, too," witness Jasmine Tsang told WLS-TV. "I actually moved in from the city just recently. I thought I escaped all of that."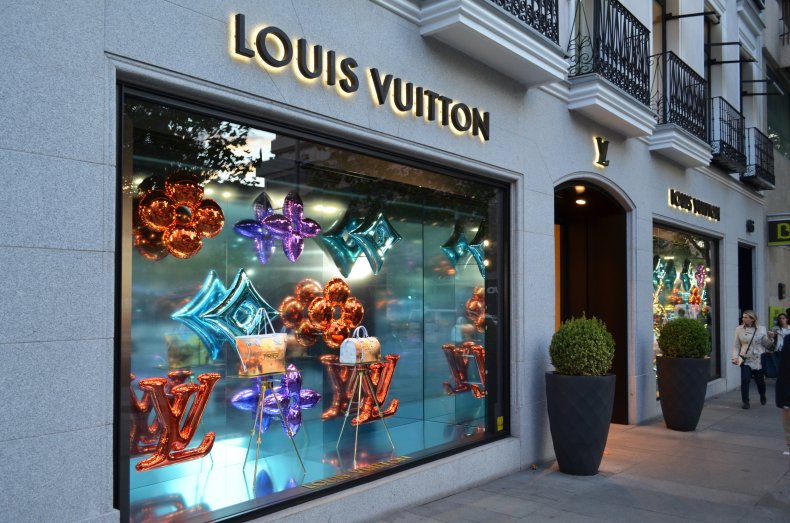 While Louis Vuitton stores are typically watched by security, this is the third time in just two months that the luxury retailer has seen one of its Chicago-area stores robbed.
The company's outlet at Northbrook Court in Northbrook, Illinois, 25 miles north of Chicago, was robbed twice, with the thieves committing their crimes in a similar manner to the Oak Brook heist.
The first robbery occurred on October 7, when "several purses and luggage" worth $66,000 were stolen from the store. Then on November 2, thieves were able to steal over twice as much from the same location, nabbing $150,000 in stolen goods.
In both of these instances, the robbers can be seen on camera darting in and out in a matter of seconds, and Northbrook Police stated they then made their getaways in multiple vehicles, as well.
Law enforcement has not confirmed whether these robberies were related or perpetrated by the same crew.
However, Northbrook Court acknowledged that thieves have been hitting high-end brands hard recently, and said in a statement that "this is an ongoing issue facing luxury brands in the Chicagoland area that goes beyond Northbrook Court. We are deeply disheartened one of our tenants was targeted for this crime."
Since its founding in 1854, Louis Vuitton has become one of the most iconic luxury retailers, and at one point was the most valuable luxury brand in the world for six straight years.
Louis Vuitton's parent company, LVMH, also runs numerous other luxury brands such as Dior, Givenchy, and Hublot. LVHM's chairman, Bernard Arnault, is the third-wealthiest person in the world, with a reported net worth of $201 billion.
Newsweek has reached out to Louis Vuitton for comment.