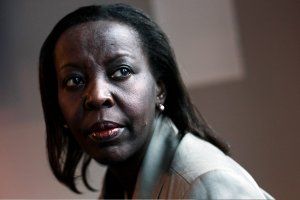 Sixteen years after genocide, Rwanda is a relatively peaceful place. But recent events have raised doubts as to whether stability is coming at the expense of basic freedoms. Earlier this year, Rwanda suspended two newspapers critical of President Paul Kagame and arrested a presidential candidate, all in the name of a law preventing "genocide ideology." In the lead-up to the August presidential election, NEWSWEEK's Ryan Tracy spoke with Foreign Minister Louise Mushikiwabo about the country's struggle to overcome its past and its future hopes. Excerpts:
When the West thinks of Africa, it often sees one homogenous place. How does that affect Rwanda's economic opportunities?
Rwanda, like many countries in Africa, has to fight negative perceptions. What we have done is to create institutions to proactively go out and explain what Rwanda wants and offers in terms of investment. But, still, perception is a big problem for Africa. We've seen it a lot with the media portraying Africa as a big place where, when things go right, there's something wrong. We've seen it recently with Rwanda: it's elections, it's Africa, therefore there has to be violence. Which is not true. [And] it does affect us in terms of dollars coming to the countries.
What do you say to the allegations that the party in power in Rwanda intimidates the opposition?
That portrayal is inaccurate. The fact that Rwanda now has four presidential candidates is nowhere to be seen in international media. We see that those political aspirants who tend to be on the extreme in terms of ethnic discourse, in terms of what should happen with the country, are the ones who are getting the attention.
How is Rwanda striking a balance between the need for peace and stability and freedom of expression?
You will see in our 2003 Constitution the word "unity" repeated so many times. What that means is you can be critical, you can bring up any subject for discussion, but please do not bring [up] anything that's going to divide us again. That's a decision that was made by the citizens of Rwanda, and that is not something that would make sense in other places. We cannot be rushed into allowing any kind of discourse, [especially] when it takes us back to where we were 16 years ago. I think that [policy] is something most people have said is being manipulated. It's not. We've been working on so many competing priorities in the last 16 years to rebuild the country, to make sure people live peacefully together, to reconcile after genocide. These are processes that take time. We do as a government welcome dissenting voices and different views, but we have a responsibility to preserve the kind of stability, the kind of unity, we've been working on very hard for the last 16 years.
The International Criminal Tribunal for Rwanda has received praise, but Rwandans have also been frustrated with some aspects of it.
The tribunal has done a very good job in establishing that there was genocide in Rwanda, and that's not something we take for granted. It has established for example that rape is a war crime for the first time in history. The most important lesson [from the tribunal] that Rwanda could offer is that genocide has to be prosecuted vigorously.
What are your hopes for Rwanda in the next 10 years?
We want to be fully integrated into the African community…to bring us better economic prospects and also a level of stability. We also want to get opportunities for our people; that's [why] we applied, and pursued vigorously, to be members of the [British] Commonwealth. Economically, in 10 years, we want to be a middle-income country; that's part of our 2020 vision. To get there [we need] to take advantage of technology as much as we can. We are making a lot of progress already with optic fiber, with some of the infrastructure that we put in place. We basically want to arm our citizens with what they need to be able to compete globally and just have a good standard of living.