Louisiana Abortion Clinic Says 60 Percent of Clients are From Texas Since New Law Started
One Louisiana abortion clinic has seen the percentage of clients from Texas clients significantly increase following the enactment of the state's latest abortion law.
Considered one of the most restrictive abortion laws in the U.S., the Texas law went into effect on September 1. It prohibits abortion after cardiac activity is detected from a fetus, usually about six weeks into a pregnancy. There are no exceptions for conception via rape or incest.
The law also allows private citizens to sue anyone who aids a woman in accessing an abortion in Texas.
In 2017, the Guttmacher Institute found that Texas accounted for about 6 percent of all abortions in the U.S. and in 2021, the institute found that around 1,000 women in the state sought an abortion each week.
Since the law took effect, abortion clinics in neighboring states have reported being overrun by clients from Texas seeking the procedure, the Associated Press reported.
Kathaleen Pittman, the clinic administrator for Hope Medical Group in for Women in Shreveport, Louisiana, told the AP that many of the stories women share when they arrive are troubling for the staff to hear.
Pittman said that before the law was enacted, around 20 percent of their clients hailed from Texas and many of them lived near the Louisiana border. Now, she said, clients from Texas are 60 percent of their clientele and the woman are traveling hundreds of miles to see them, including from Austin and San Antonio.
For more reporting from the Associated Press, see below.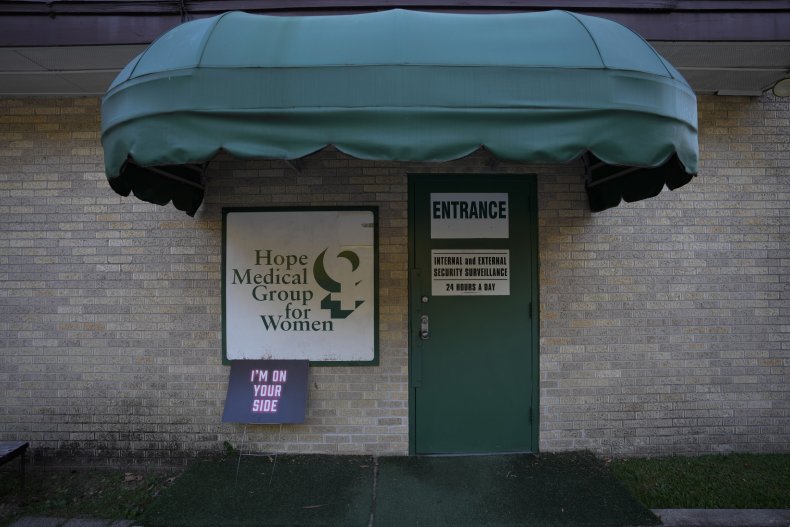 The law has been bouncing between courts for weeks. The Biden administration urged the courts again Monday to suspend it. That effort came three days after a federal appeals court reinstated the law following a blistering lower-court ruling that created a brief 48-hour window last week in which Texas abortion providers rushed to bring in patients again.
The anti-abortion campaign that fueled the law aims to reach the U.S. Supreme Court, where abortion opponents hope the conservative coalition assembled under President Donald Trump will end the constitutional right to abortion established by the landmark 1973 Roe v. Wade ruling.
The Trust Women clinic in Oklahoma City, which is about a three-hour drive from Dallas-Fort Worth, saw about 11 patients from Texas in August. In September, after the Texas law went into effect, that number jumped to 110, and phones at the clinic are ringing constantly, said Rebecca Tong, co-executive director of Trust Women, which also operates a clinic in Wichita, Kansas.
"Many of them are trying to literally drive through the night and then show up at 8 a.m. for their appointment, having not rested," Tong said. "It's just not a good situation to go into an outpatient surgery having driven through the evening and think you can just go right home afterward."
The Texas law and the difficulty in scheduling out-of-state appointments also force women to wait longer, which means greater expense, more risk and fewer options for terminating the pregnancy, Tong said.
Legislators in some states surrounding Texas hope to implement a similar law that would prevent most abortions. In Oklahoma, Republican state Sen. Julie Daniels wrote or sponsored four separate measures to further restrict the practice. All four laws are being challenged in court.
When asked to respond to the Texas women, Daniels said her calculation is not complicated.
"The calculus is simple and straightforward: An unborn child is a child. It's a life. It's simply that, and so it's not any more complicated than that," she said. "I'm concerned first and foremost with the life of the unborn child."