Louisiana Allows Hair Salons, Restaurants, Movie Theatres to Reopen Friday As Coronavirus Recoveries Exceed 22,000
Louisiana Governor John Bel Edwards announced that his state would move into the first phase of its reopening plan Friday, allowing restaurants and casinos to open at 25 percent of their maximum capacity.
Health officials in Louisiana, one of the states hardest hit by the coronavirus, reported Monday that 22,608 people have presumably recovered from the new disease out of a total of 31,815 reported positive cases.
Citing conversations with health care officials and state data, Edwards said during a Monday news briefing that the "next proclamation will probably be issued on Thursday and probably be effective Friday." He also said the order would be in place for 21 days.
"The stay-at-home order will be lifted for everyone," read a statement from Edwards' office on Monday, "but we will encourage those vulnerable individuals to stay home as much as possible."
Restaurants will be allowed to hold indoor table service at 25 percent of their maximum capacity. Outdoor seating will continue to be allowed with social distancing protocols maintained.
Casinos and video poker purveyors will also be allowed to be open at 25 percent maximum capacity. Horse racing may also reopen for business without any spectators in the stands if approved by the Louisiana Racing Commission.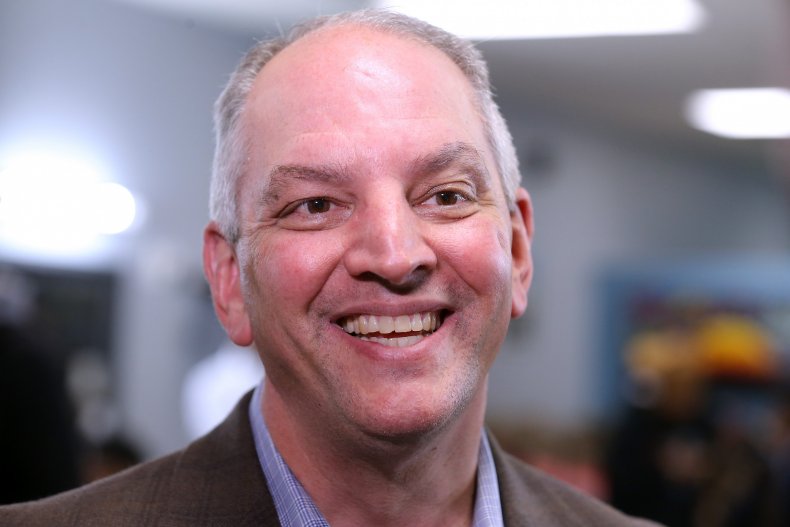 Social gatherings of more than 10 people will be allowed to take place, although the guidance from the White House advises against such practices. Edwards' office says he will "continue to encourage everyone to abide by this guidance."
Louisiana will also be encouraging its residents to wear face masks but not mandating face coverings in public settings.
"I do believe that we are striking the right balance with this plan," Edwards said, "and that balance obviously is between public health on the one hand and this public health emergency and re-engaging more of our economy, getting more of our business open, employers back to work, customers in our stores and restaurants and so forth."
While hair salons, movie theaters and fitness centers may also open at 25 percent of their maximum capacity, other businesses including tattoo parlors, massage establishments and spas are to remain closed.
Funerals, weddings and worship services may also be held inside using the 25 percent of maximum capacity guidelines, but no size limit has been placed on outdoor services as long as social distancing protocols are maintained.
"Right now, the data shows improvement, and we also now have a much more robust testing and contract tracing program underway, which will allow us to better identify cases and isolate those who may have been infected," Edwards said. "However, we are not out of the woods and if we see a dramatic spike in cases, we may have to increase restrictions. Our lives will not go back to normal for some time."
Newsweek reached out to Governor Edwards' office for further comment. This story will be updated with any response.