Louisiana Breaks Record for COVID Hospitalizations, 91 Percent of Patients Unvaccinated
Louisiana hit a record high for COVID-19 hospitalizations on Monday, with 2,720 patients currently being treated for the virus, according to new figures released from the state's department of health.
That number marks the sixth day in a row Louisiana has reported record-breaking hospitalization rates. According to the department of health, there have been 299 new hospitalizations since Friday, and 318 people are now on ventilators.
The vast majority of those hospitalized, or 91 percent, have not been fully vaccinated.
For weeks, Louisiana has been hit hard by the recent surge of COVID-19 infections, largely caused by the highly infections Delta variant. In total, the state reported 16,541 new infections–including 3,106 cases involving children–since Friday. Fifty new deaths were also recorded over the weekend, bringing the state's overall death toll to at least 11,260 since the pandemic began.
Christina Stephens, a spokesperson for Democratic Governor John Bel Edwards' office, said Monday the number of new cases is "shockingly high."
"Simply put, there is just a massive amount of active COVID in Louisiana right now and you should be getting vaccinated and wearing masks indoors," Governor John Bel Edwards spokesperson Christina Stephens said on Twitter.
In an effort to combat the spread of the virus, Edwards reinstated a mask mandate last week for all indoor spaces, including for K-12 schools.
"Our capacity to deliver life-saving care to COVID and non-COVID patients is severely compromised right now as a result," Edwards told Newsweek in an interview Friday. "I wish I could say that we were at the peak or coming down the backside, but that is not the case right now. This Delta variant has really proved to be a game changer."
The soaring case numbers have prompted the cancellation of several state events, including the New Orleans Jazz and Heritage Festival scheduled for this fall. Edwards told Newsweek Friday he is not currently looking to implement further restrictions beyond the mask mandate, but said that he will "not take anything off the table."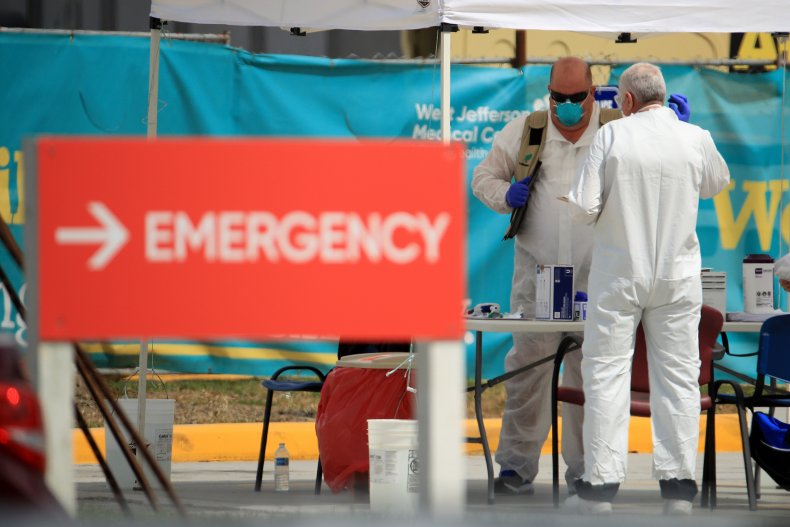 According to Monday's department of health figures, Louisiana is dramatically lagging in COVID-19 vaccination rates. So far, only 45 percent of state residents have taken their first shot of vaccine, and just 38 percent are fully vaccinated. That number falls well below the national average, which has seen at least 50 percent of all Americans fully vaccinated, while over 70 percent of adults have received at least one shot.
The latest health department data found that 90 percent of new COVID-19 cases and 84 percent of deaths in late July occurred among those who are unvaccinated. Edwards said Friday he will continue to encourage people to mask up and get vaccinated as the state grapples with its latest surge.
"This is a public health emergency. It is an emergency of a virus that is extremely transmissible, more transmissible than at any point in the past. And, quite frankly, it is very deadly," Edwards said. "Everybody has a role to play in this, and the decisions that people make don't just have an impact upon themselves. It has an impact on their families, their communities and on the state as a whole."