Louisiana Gov. Edwards Tells Evacuated Residents: 'Do Not Return Here or Elsewhere'
Louisiana Governor John Bel Edwards had a message on Tuesday for those who left their homes to seek safer ground during Hurricane Ida: Don't come back yet.
"If you have already evacuated, do not return here or elsewhere in southeast Louisiana until the office of emergency preparedness tells you it's ready to receive you," Edwards said. "The schools are not open. The businesses are not open. The hospitals are slammed. There's not water in your home, and there's not going to be electricity."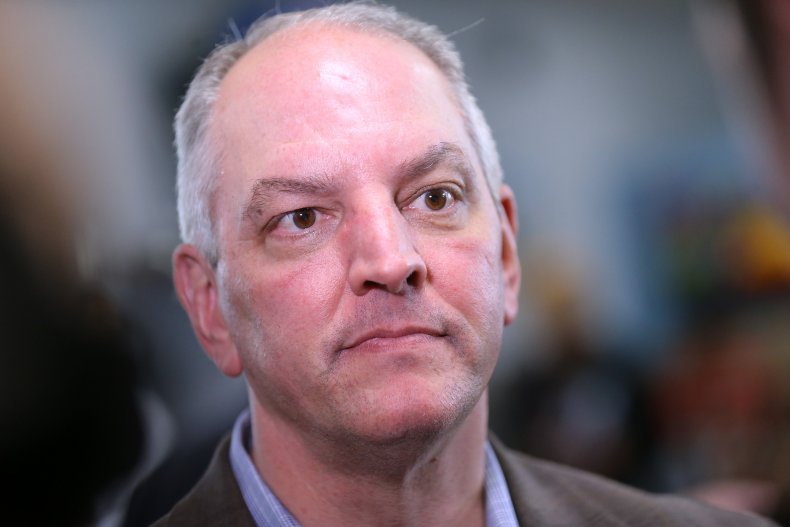 An estimated 25,000 utility workers are working to restore electricity, which remains out for hundreds of thousands of people in the state. Edwards also noted the difficulty of recovery efforts as temperatures begin to reach into the triple digits. He and other officials during Tuesday's press conference in LaPlace said that it could take days if not weeks for services to be restored.
"Many of the life-supporting infrastructure elements are not present. They're not operating right now," the Democratic governor said.
Around 441,000 people in 17 of Louisiana's parishes do not have water, and an additional 319,000 are under boil-water advisories. At least four people are confirmed dead because of the storm, and Edwards said he expects that toll to increase.
Federal Emergency Management Agency Administrator Deanne Bennett Criswell seconded Edwards' suggestions during the press conference and said people who need help should register with FEMA as soon as possible. She also said FEMA teams were responding to neighborhoods that were hit hardest by Ida, especially those with widespread cellphone outages.
Edwards and Criswell both addressed how President Joe Biden's approval of Louisiana's request for a major federal disaster declaration. (The president also approved Mississippi's request for an emergency declaration.) The declaration allows federal aid to supplement state aid and help fund recovery efforts in the areas affected by the hurricane.
On Monday, Biden detailed the response to the storm, saying the Gulf Coast states with most of the damage have been sent 2.5 million meals and 3 million liters of water, as well as generators. He also said that over 100 ambulances and medical teams were activated and that the federal government was working to help open more shelters.
Additionally, Biden said that more than 5,000 members of the National Guard have been activated to assist in search and rescue efforts.
On Tuesday, Edwards stressed perseverance. He said, "We have a lot of work ahead of us, and no one is under the illusion that this is going to be a short process."