Louisiana Man Whose Dog Died in Stolen Truck Donates Surgery Funds for Dog With Legs 'Sawed Off'
After a dog was shot, paralyzed and then had his legs sawed off by his owners, a Louisiana man has stepped in with financial support for the pup, having had experienced his own canine trauma.
David Mohr decided to donate $1,000 for the surgeries required for Buddy to get back on the road to recovery. He is behind The Roleaux Foundation, which is aimed at helping abused and abandoned dogs.
He started the initiative "to honor his late friend and to help other abused or neglected animals" after his own dog, Roleaux, was killed during a botched car robbery earlier this year.
The news follows the arrest of one woman and two teenagers in relation to the mistreatment of Buddy, a daschund, after deputies with the St. Tammany Parish Sheriff's Office of Louisiana were made aware of his condition.
The incident was reported to them by a local animal rescue group, who found Buddy abandoned in a mobile home park in the Slidell area. Detectives working the case then determined the identity of the owners, having had received a report from them with regards to the shooting of the dog in February of this year.
It was not established who was responsible for the shooting, but in a statement in relation to the three arrests, a spokesperson for the St. Tammany Parish Sheriff's Office said the owners did not seek proper medical treatment for the animal as advised.
"As a result of being shot," the spokesperson said, "Buddy suffered partial paralysis in his hind legs and was unable to walk. The dog's legs dragged behind him, causing sores on his legs.
"Its owners, a 50-year-old Slidell woman and her 17-year-old daughter, told detectives the dog's legs 'fell off' after they bandaged them too tight.
"However, detectives consulted with a board-certified veterinarian orthopedic surgeon, who concluded with certainty that the wounds on the dog's hind legs were 'maliciously inflicted' and not removed by a veterinary professional nor by natural means."
The 50-year-old woman was charged with cruelty to animals. Meanwhile her daughter, who is believed to have inflicted the damage on Buddy, was charged with aggravated cruelty to animals. The third female arrested, believed to be a friend of the teenager and also 17, was charged with cruelty to animals for abandoning the dog, but was later released on a custodial agreement to a responsible adult.
Having heard of the news, Mohr donated the funds from his organization for Buddy's surgeries. He started the initiative after Roleaux, a Labrador-Weimaraner mix, was killed in July of this year.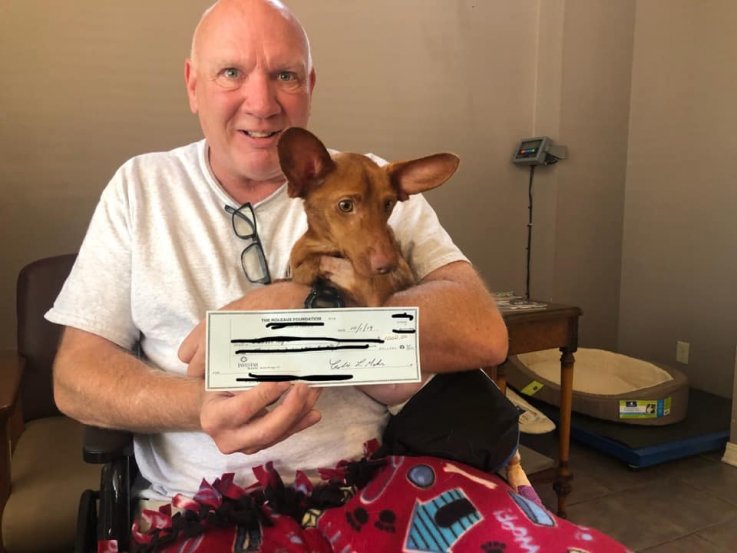 According to police reports, Mohr stopped at a doughnut shop in the Baton Rouge area, leaving the windows up and the engine of his Toyota Tacoma running so that Roleaux would not overheat in the car.
It was then that 30-year-old Leslie Aguillard rushed to steal the car. When Mohr attempted to stop her, she ran over his groin and crushed his pelvis, leaving him in a wheelchair. Aguillard then drove away, but was located a day later—Roleaux was found dead from heat exhaustion in the car.
When Mohr was asked by the Star-Telegram why he donated the funds, he simply responded: "Buddy deserves it."
Louisiana Man Whose Dog Died in Stolen Truck Donates Surgery Funds for Dog With Legs 'Sawed Off' | U.S.