Louisiana Man Has Nose Reattached After It Was Bitten Off in a Bar Fight
Bryan Thayer's night out culminated in a trip to the hospital to have a section of his nose reattached. On Saturday, May 8, the 34-year-old resident of Metairie, Louisiana, finished a shift at a local bar that he owns and decided to celebrate his freedom with a drink elsewhere. Shortly before 5 a.m., he arrived at City Bar, according to The New Orleans Advocate. There, he and a friend bought fellow customer Andrew Nierman two drinks in a row after he spilled the first on himself.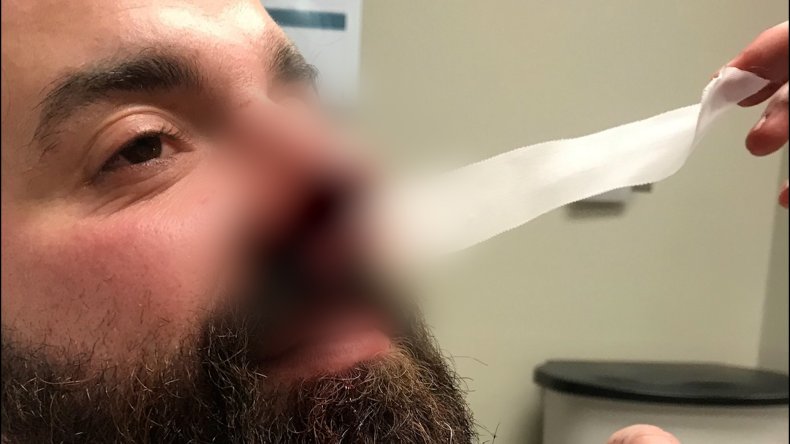 For some reason, the act of kindness didn't sit well with Nierman, 32, who allegedly proceeded to threaten Thayer and his friend before seizing Thayer's head and biting a portion of his nose off.
"It took me a second for it to sink in," Thayer said, according to the Advocate. "I was in shock."
Bleeding profusely, Thayer and several witnesses went outside and managed to flag down a nearby sheriff's deputy. The deputy, in turn, managed to detain Nierman, who was in the process of driving away.
"I was just accosted by him, so I bit him in the face," Nierman told the deputy of his motive, according to an incident report reviewed by the Advocate. He was booked into Jefferson Parish Correctional Center on charges of second-degree battery and resisting arrest by refusing to provide identification and released on $25,500 bond the next day. When contacted by the Advocate, he declined to comment on the charges.
Thayer required surgery to repair his nose. On May 17, a little more than one week after the attack, doctors reopened and restitched the wound to speed up the healing process, Thayer said. While it seems likely that he will escape disfigurement, he said that he believes that the recovery process will prevent him from working at his bar, BJ's Patio Bar and Grill.
In addition, he said, the injury has been difficult to explain to his young daughter without scaring her.
"Her take on it is that a bad man bit Daddy and that Daddy has a boo-boo on his nose," Thayer said.
Thayer's partner, Kelsey Williams, established a GoFundMe page to cover the costs of his medical care on May 16. The page states that Thayer needed 45 stitches to repair the torn flesh. However, he's far from out of the woods yet.
"Now, we are in the day-to-day waiting period, praying for blood flow and for his body not to reject the reattachment," Williams wrote at the time.