Louisiana Mayor Bans Nike Products Following Kaepernick Ad
The mayor of a Louisiana city has announced a ban on Nike products following the Colin Kaepernick ad campaign.
Incumbent Republican Ben Zahn, of Kenner, has told his city's recreational staff to no longer purchase any products that show the Nike logo. The order was signed on September 5 and said the ban would come into immediate effect. Democratic political activist Donna Brazile shared a photo of the memorandum on Twitter Sunday.
"Effective immediately all purchases made by any booster club operating at any Kenner Recreation Facility for wearing apparel, shoes, athletic equipment, and/or any athletic product must be approved by the Director of Parks and Recreation, or his designee," the memorandum states. "Under no circumstances will any Nike product or any product with the Nike logo be purchased for use or delivery at any City of Kenner Recreation Facility."
Brazile said she was "disappointed in my beloved City of Kenner."
Owen Rey, president of the Kenner booster club, told WWL-TV it was a poor decision that "shouldn't be this way." "If we have something that we feel that we want that's going to benefit our kids, it shouldn't matter what logo, what brand," Rey said. "As long as it helps the kids and what we're trying to accomplish at the park."
The Nike ad shows a tight close-up picture of Kaepernick, covered in the sentence: "Believe in something. Even if it means sacrificing everything." A former footballer for the San Francisco 49ers, Kaepernick was allegedly ostracized from the National Football League after he decided to kneel during the national anthem. It was a political stand following protesting police violence against the black population.
The divide has run through players, owners and fans alike. President Donald Trump has repeatedly stoked the flames by urging NFL owners to sack players who refuse to stand for the national anthem.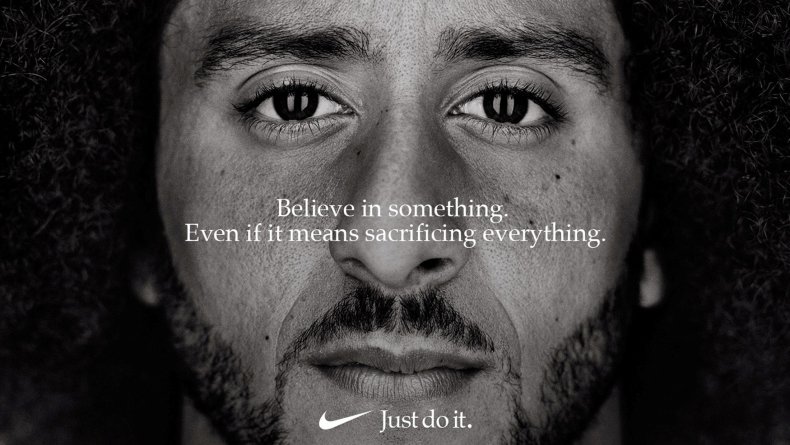 In May, the NFL introduced a new policy that states players will either have to stay in the locker room or stand on the sidelines during the anthem. However, the policy has since been put on hold as negotiations between the NFL and the players' union continue.
Nike's decision was lambasted by a Fox News panel. "This disingenuous idea, this is just 'Oh, Colin Kaepernick is just trying to make a statement' […] baloney!" Townhall.com senior columnist Kurt Schlichter said.
"He is targeting us. He knows what this means to us. He knows how insulting it is. He knows how disrespectful it is and Nike is empowering it. I don't buy it. This is scummy, this is lousy, this is rotten, and I'm never buying another Nike product again and I think millions of Americans are going to agree."