Louisiana Pastor Tony Spell Arrested for Allegedly Backing Church Bus Toward Coronavirus Protester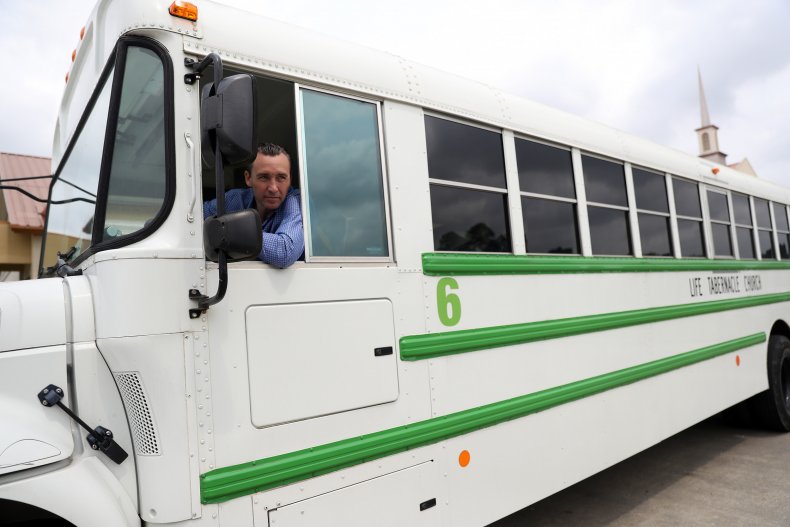 Louisiana Pastor Tony Spell was arrested Tuesday for allegedly backing a church bus toward a coronavirus protester.
Graham Ulkins, a reporter for WAFB 9 News in Baton Rouge, posted footage of the arrest on his Twitter feed: "Breaking: Pastor Tony Spell just cuffed and en route to EBR Parish Prison. Charged with aggravated assault, improper backing, and outstanding bench warrants. Central PD releasing a statement soon."
Spell can be heard saying, "Don't take my Bible," as police place his hands behind his back to handcuff him. The police do remove the Bible from his possession before leading him away.
The Life Tabernacle Church pastor has refused to close down his church in the midst of the new coronavirus pandemic. The Central Police Department said Spell was issued an arrest warrant for aggravated assault with a deadly weapon, according to a report by WAFB 9 News.
Abbi Rocha, a reporter for NBC Local 33, tweeted out video of the incident Sunday that led to the arrest warrant: #Breaking—Central Pastor Tony Spell has a warrant out for his arrest for an incident with a protester that happened on Sunday. Watch below."
Security footage of the incident Sunday shows a large school bus–like church vehicle backing up to a man holding a sign. The bus stops right before it reaches the man, who was protesting Spell's refusal to adhere to government lockdown orders.
Trey Bennett, who identified himself as the protester seen in the video, told WAFB 9 News that he thought Spell was merely backing the vehicle out of the driveway in order to drive away, "but he just kept coming in reverse."
"I could see him driving the bus. He was honking his horn loudly at me and making gestures suggesting he was yelling while he was driving. It didn't seem real until it was physically in my face with a bus," Bennett said of the incident.
Spell told WAFB 9 News that he was in fact driving the bus shown in the security footage with the intention of climbing out and confronting Bennett, though his wife persuaded him not to.
"That man has been in front of my church driveway for three weeks now. He shoots people obscene finger gestures and shouts vulgarities. I was pulling in from my bus route, picking up black children who haven't eaten because of this sinister policy that has closed schools. I was going to approach this gentleman and ask him to leave," Spell said.
Bennett denied the accusations made by Spell, saying, "I haven't done anything of the sort. I just stand there with a sign. I don't say anything to anybody."