Controversial Louisiana Pastor Tony Spell has been freed from house arrest after being forced to wear an ankle monitor for weeks due to allegedly backing a bus into a protester.
Spell's Life Tabernacle Church has continued to hold large services throughout the COVID-19 pandemic, despite public health concerns and a stay-at-home order from Louisiana Governor John Bel Edwards that was in effect until Friday. He had been under house arrest since April 25, but a court ordered him released on Friday, according to WVLA reporter Abbi Rocha.
The pastor was arrested on charges of aggravated assault with a deadly weapon on April 21, after allegedly driving a church bus towards protester Trey Bennett two days earlier. Bennett had frequently been seen outside the church protesting Spell's decision to continue holding services.
Almost immediately after his arrest, the pastor resumed holding services. Over 1,000 attendees are said to have been present at some services held during the pandemic.
Spell posted a video to YouTube on Thursday night, discussing the governor's new order that allows churches and other establishments to operate at 25 percent capacity as of Friday. The pastor, who was still wearing the ankle bracelet, vowed to operate at "125 percent capacity" for services on Sunday, insisting that people would be traveling from multiple states to attend.
"We will comply with the governor's orders whenever they sell popsicles in Hell and set up an ice-skating rink in the lake of fire and sell tickets for admission," Spell said. "We will never comply with any anti-God, anti-church, anti-free-American order that says do not have church."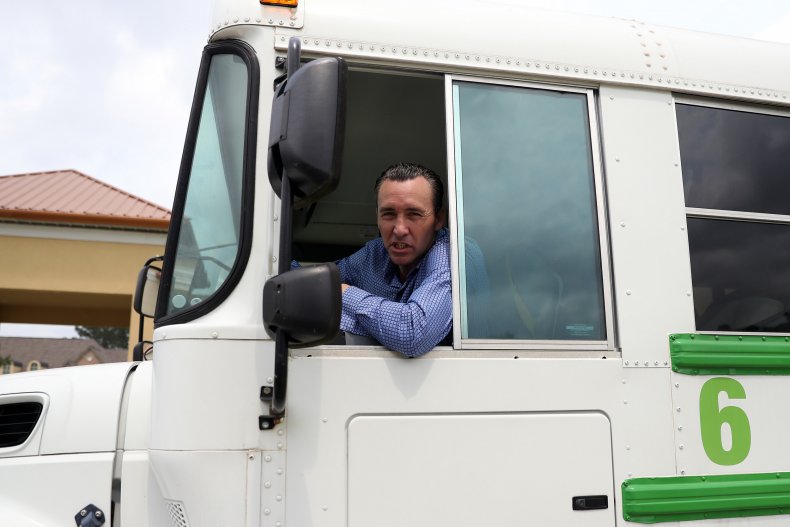 Spell had filed a lawsuit against Edwards and other public officials over the stay-at-home order last week, claiming that his religious freedoms were infringed due to the "travesty" of the public health measure limiting his ability to conduct services.
Although Spell has said Bennett was shouting obscenities and making rude hand gestures to parishioners, the protester insisted that he was holding a peaceful protest when Spell backed into him with the bus. It was the second time Bennett had a run-in with a bus, previously having suffered injuries after he was hit by a school bus in 2003.
"I could see him [Spell] driving the bus. He was honking his horn loudly at me and making gestures suggesting he was yelling while he was driving," Bennett told WAFB. "It didn't seem real until it was physically in my face with a bus." Spell stopped the bus short of actually hitting Bennett.
Not long after the public health crisis emerged, Spell said he continued to hold services because he believed the virus is "not a concern," claiming that the pathogen is "politically motivated."
At least one member of Spell's church is thought to have died from COVID-19, although Spell reportedly disputed the coroner's findings as a "lie." In addition, one of the pastor's attorneys was hospitalized after contracting the virus.
Spell has suggested that even if the virus does pose a risk, his parishioners are willing to make the ultimate sacrifice to attend church, telling TMZ in April that "true Christians do not mind dying."
Newsweek reached out to Life Tabernacle Church for comment.