Louisiana Reopening Comes Day After Largest Spike in New Cases in a Month
Louisiana is entering Phase One of its reopening plan today, one day after the state reported the highest spike in cases since April 10.
Governor John Bel Edwards lifted the stay-at-home order on Friday, allowing many businesses, including restaurants, gyms, malls, salons and movie theaters to reopen for in-person business. With 33,489 cases, Louisiana's had the 13th largest outbreak in the United States, and 2,417 people have died.
On Thursday, Louisiana officials reported 827 new cases, according to a tracker maintained by Johns Hopkins University. It's the highest number of new cases to be reported in the state since April 10, when there were 970 new cases. The Louisiana Department of Health reported that the spike in cases was partially attributed to labs that hadn't previously reported cases electronically and 218 of the 827 new cases came from the regular reporting across the state.
Symptoms of a new coronavirus may not appear for 14 days and with delays in test results, it'll be about a month or longer before an analysis can be conducted to determine the impact of a state's reopening plan on the outbreak, experts told Newsweek. But, if a state sees an immediate increase in cases, Dr. Anne Monroe, an associate research professor of epidemiology at George Washington University, told Newsweek it should be heeded as a "warning sign."
"If restrictions were lifted on a given day and cases continued to rise the next day, it indicates that community transmission is very active," Monroe said. "It's a warning sign that...lifting restrictions has the potential to make things worse."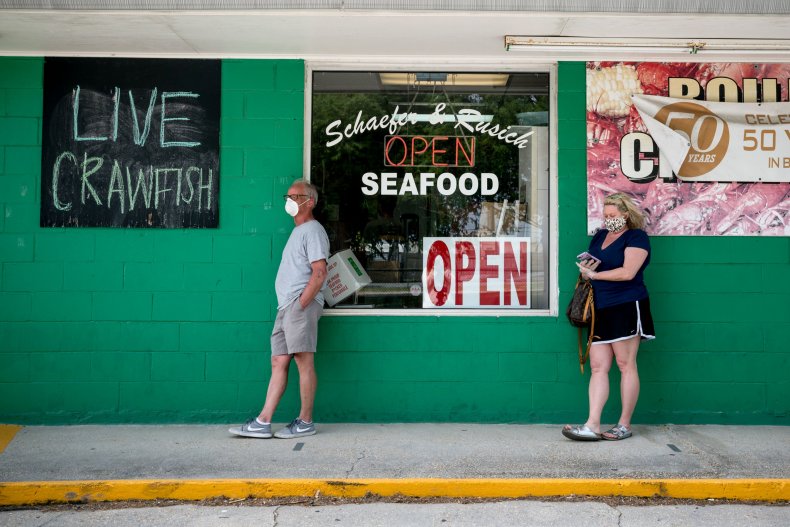 In announcing the reopening, Edwards said Louisianans "dramatically improved" the trajectory of the outbreak by adhering to restrictions in the stay-at-home order. Since cases were reduced and the health care system wasn't overrun, the governor said he felt "confident" that the state could move forward with entering Phase One of the reopening.
"However, we are not out of the woods and if we see a dramatic spike in cases, we may have to increase restrictions," the governor said. "Our lives will not go back to normal for some time."
During the first two weeks of May, Louisiana has had a daily average of 392 new cases, according to the tracker. Although still a high number of new cases, it's encouraging when compared to the daily average of 1,163 new cases Louisiana saw during the first two weeks of April.
Edwards announced he'd extend his stay-at-home order to May 15 on April 27, prompting a backlash from some residents. Protesters marched from the Louisana capitol to the governor's mansion to demand Edwards reopen businesses.
Businesses that can reopen on Friday will still have to abide by certain restrictions. They can only operate at 25 percent capacity and follow guidelines for sanitizing and spacing to allow physical distancing. Churches will also be allowed to reopen under the same restrictions as businesses.
Following Friday's reopenings, casinos and video poker establishments can reopen on Monday, but also at 25 percent occupancy. Gaming positions must also be spaced out to allow for social distancing and gaming facilities need approval from the Gaming Control Board before they can reopen.
Although businesses are allowed to reopen, people are still being encouraged to stay home as much as possible to limit their risk of exposure. A "positive and hopeful move" for the state, Edwards said Phase One should not be considered a "mission accomplished" or "victory against COVID-19."
"Louisianans are a remarkably strong and resilient people, and by working together, we will continue to protect each other and our state," Edwards said.
This article has been updated to reflect the change in labs reporting cases.