Louisiana Sheriffs' Association Makes Its First-Ever Presidential Endorsement for Donald Trump
The Louisiana Sheriffs' Association (LSA) made its first-ever presidential endorsement on Thursday, announcing the group's support for President Donald Trump's re-election this November.
"President Trump has repeatedly sided with law and order," Livingston Parish Sheriff Jason Ard told KLFY-10 in a statement. "The men and women who choose to serve and protect across our great country know we have a proven leader in Donald J. Trump. We endorse a leader who supports our mission of working with citizens to maintain safer communities."
Bossier Parish Sheriff Julian Whittington confirmed the endorsement in a Facebook post.
"The Louisiana Sheriffs' Association has endorsed President Trump, and I was honored to be able to make the motion for that to happen," the sheriff wrote. "We chose to stand with the one who stands with us. President Trump has continued to stand up for law enforcement, which needs to be maintained and respected for our nation to have law and order."
Whittington served as the group's president from July 2019 to July 2020. Each sheriff who holds the position does so for a one-year term.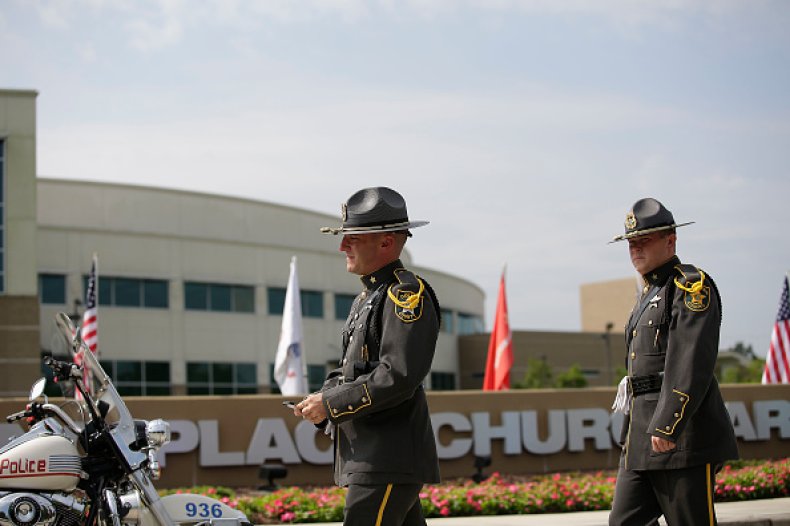 Trump has touted himself as the "law and order" president as protesters have taken to the streets for over three months to demand an end to racial injustice and police brutality.
On Wednesday, Trump released a memo announcing the White House's plan to review state and local funding for "anarchist jurisdictions."
"To ensure that Federal funds are neither unduly wasted nor spent in a manner that directly violates our Government's promise to protect life, liberty, and property, it is imperative that the Federal Government review the use of Federal funds by jurisdictions that permit anarchy, violence, and destruction in America's cities," the memo read.
"It is also critical to ensure that Federal grants are used effectively, to safeguard taxpayer dollars entrusted to the Federal Government for the benefit of the American people."
Trump has publicly expressed his support for law enforcement officials and said that Democrats want to defund and abolish the police, a demand the Black Lives Matter movement has called on officials to do.
After several nights of civil unrest in Kenosha following the police shooting of Jacob Blake and the death of two protesters, the president made a visit to the Wisconsin city.
During his trip Trump pledged $1 million to Kenosha law enforcement, telling officers that they'd have "some extra money to go out and do what you have to do."
Newsweek reached out to the Trump campaign, but did not hear back before publication.
Formed in 1938, the LSA is composed of 64 sheriffs and nearly 14,000 deputy sheriffs and aims to "maintain the powers of the sheriff as peace officer," according to its website.
While this is the organization's first presidential endorsement, the LSA has previously supported political candidates in the state's gubernational elections, including the backing of Louisiana Governor John Bel Edwards during his re-election campaign in October as well as his 2015 campaign when he first defeated former Senator David Vitter.
Edwards is the only Democrat to have received an endorsement from the LSA.
Newsweek reached out to the LSA for comment, but did not hear back before publication.