Louisiana Treated As 'Stepchild of the Nation' in Winter Storm Response: Shreveport Mayor
Mother nature hasn't been kind to the state of Louisiana over the last year. Between deadly hurricanes on the coast to the coldest deep freeze in a generation, the state that calls itself a sportsman's paradise hasn't exactly had a banner year for perfect weather.
As two winter storms wreaked havoc across Texas, Oklahoma, Louisiana and all over the south last week, Texas seemed to get the lion's share of media coverage and relief. Shreveport Mayor Adrian Franklin took notice of his state going relatively unnoticed.
"Louisiana has been treated like the stepchild of the nation during this disaster, and Shreveport has been treated like the stepchild of Louisiana," Perkins said in the Shreveport Times. "It's frustrating."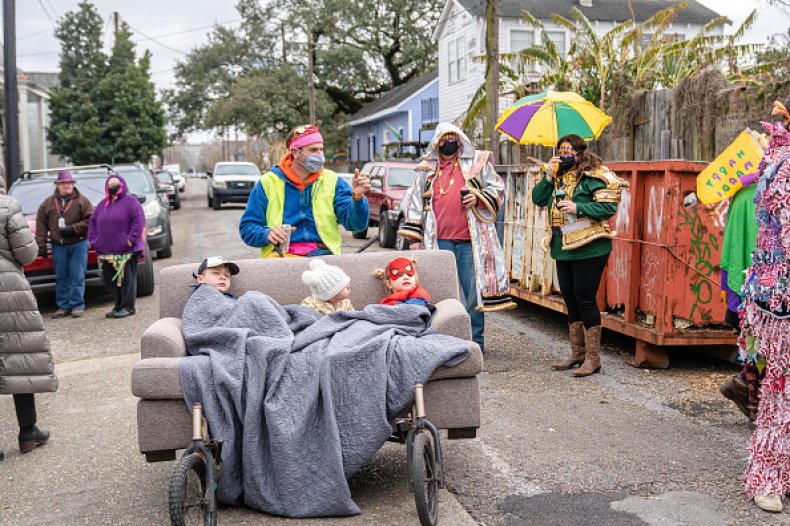 Three of the state's larger cities—Shreveport, Alexandria and Lake Charles—are still without running water or remain under a boil water notice more than a week since the temperatures sharply dropped to single digits in some places.
Shreveport had an overnight low of 1 degree one evening, and that doesn't account for even colder wind chills. Water mains burst throughout the city during the beginning of the storm, and things got worse as temperatures continued dropping while ice and snow pelted the northwest Louisiana metro area.
Perkins didn't direct his "stepchild" statement at state and federal lawmakers. The mayor praised Louisiana Gov. John Bel Edwards for sending water and national guard troops to Shreveport, and he thanked President Joe Biden for declaring a federal emergency, which speeds up getting federal resources to those who need it.
Perkins said it was the private donations and charities that spent more efforts getting aid to Texas and bypassing his state and his region.
"Texas desperately needs the help, but so do we," Perkins said. The mayor added that "local residents have stepped up here to help their neighbors. Our citizens are an inspiration for me to do everything I can to secure help to maximize their individual efforts."
Shreveport is the third-largest city in Louisiana behind New Orleans and Baton Rouge. Shreveport is a gambling hub close to the Texas border in the northern part of Louisiana, and Lake Charles is a gambling hub near Texas in south Louisiana. Lake Charles is still in shock from a deadly hurricane last year that wiped out the city and killed 27 people.
In Lake Charles, the city is still recovering from Hurricane Laura, which made landfall in nearby Cameron as a powerful Category 4 storm before leveling much of Lake Charles. Construction crews are still working to repair homes and businesses devastated from Laura last August.
"I am begging, I am pleading for Americans not to forget about Lake Charles," Lake Charles Mayor Nic Hunter said last weekend. He added this Facebook comment, "This recent severe winter weather in many ways was as impactful to the city as a major hurricane. It brought havoc to our water system."
There are about 4.6 million residents in Louisiana, and about a quarter of them are still dealing with unclean tap water, The Times reported. Of the 1 million or so without water, approximately 200,000 of them live in Shreveport.