A Louisiana woman who died after being struck by a train has been hailed as a hero, as she had been trying to rescue her 2-year-old grandchild at the time.
Rebecca Woodard's SUV was hit by a train at a Kansas City Southern railway crossing in Doyline at around 8.30 p.m. on Saturday, Louisiana State Police said in a news release.
A preliminary investigation revealed the 51-year-old's vehicle—identified as a 1997 Chevrolet Blazer—had stalled at a railroad crossing while traveling south on Louisiana Highway 163.
Louisiana State Police's Troop G spokesman Brent Hardy said Woodard and an older grandchild had gotten out of the vehicle and attempted to push the SUV off the tracks as a train was approaching the crossing.
She told the older grandchild to run while she tried to get the younger grandchild out of the vehicle, Doyline Police Chief Robert Hayden told KTBS-TV.
Woodard was still trying to get the child out of harm's way when the train hit the passenger side of the vehicle.
"As far as I'm concerned, she's a hero. She didn't leave that child," Hayden told the station.
Woodard, of Minden, was transported to a hospital in Shreveport with life-threatening injuries and later died.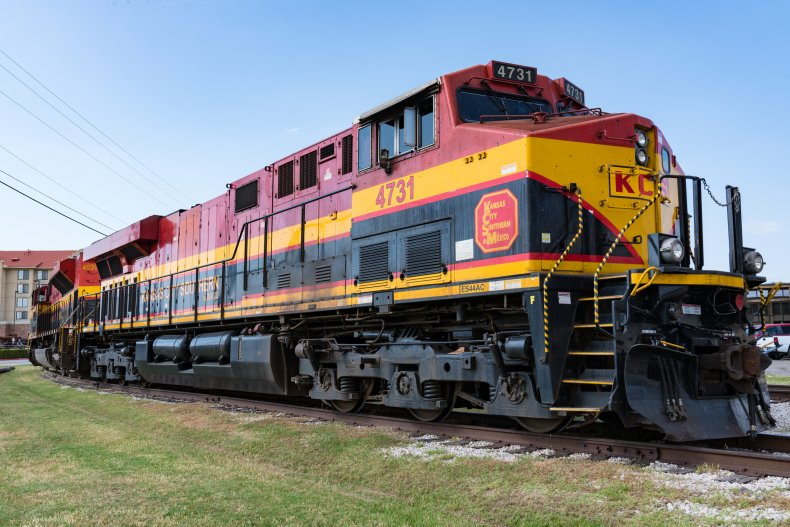 The younger grandchild, who was inside the vehicle at the time of the crash, was transported to hospital after suffering moderate injuries, Hardy said. The older grandchild was not injured in the crash, but was transported to hospital for an evaluation, he said.
Hardy said a toxicology sample was obtained from Woodard and will be submitted for analysis. The crash remains under investigation, he added.
Troop G has investigated seven train crashes that have resulted in seven fatalities in 2020 so far, Hardy said.
He advised people to get out of vehicles that stall on railway tracks as fast as possible, even if a train is not approaching.
"Louisiana State Police wish to remind motorists that trains can stop but not quickly," Hardy said.
"Motorists should always look and listen for trains when approaching a railroad crossing and yield the right of way to trains. If your vehicle ever stalls on the tracks, motorists should get out and move away from the tracks, even if you do not see a train."
In the event that happens, state police advised motorists to locate the Emergency Notification System on crossing signs and call the phone number listed.