Louisville Mayor Not Worried About Probe Into Handling of Breonna Taylor Case
Louisville, Kentucky's mayor said he is not worried despite news that local officials will investigate how the city handled the officer-involved shooting of Breonna Taylor and its aftermath.
Jean Porter, a spokeswoman for Louisville Mayor Greg Fischer, said in a statement Monday that Fischer welcomes the probe into his actions, which the city's Metro Government Oversight Committee announced earlier at a press conference.
Committee chair Brent Ackerson and vice-chair Anthony Piagentini said at the press conference that the bipartisan probe would specifically examine government transparency, or the lack thereof, on behalf of Fischer and other city officials.
"The citizens of this community, including members of this Metro Council, have been very upset with the perceived lack of transparency by the city," Ackerson said. "It's our intention, as a committee, to formally begin an investigation, to bring people in and get legitimate answers and legitimate documentation."
Newsweek contacted Ackerson for comment but did not receive a response in time for publication.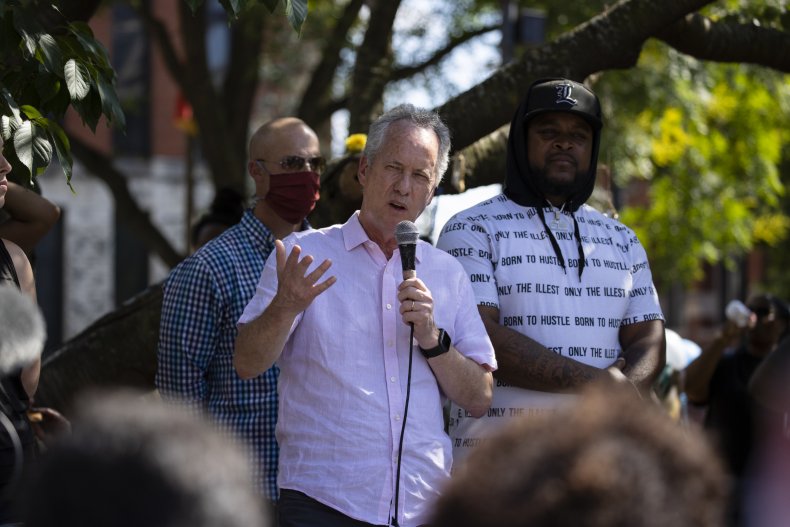 The investigation will examine the events leading up to Taylor's death and the protests that occurred in the wake of public outcry over police brutality connected to her death and those of other Black Americans including George Floyd, Rayshard Brooks and Ahmaud Arbery.
Taylor died in an officer-involved shooting in the early morning of March 13 after Louisville Metro Police Department officers had served a no-knock search warrant at her home during a drug investigation.
No drugs were found in Taylor's home, though her boyfriend Kenneth Walker was arrested for attempted murder after he shot at the three officers who entered into Taylor's home. Walker later told authorities that he thought the home was being invaded and that he was defending the property. Charges were subsequently dropped against Walker, and one of the three officers involved in Taylor's death has since been fired. The other two officers are currently on administrative leave.
"You, the public, have a right to know who is calling the shots and what their thought process is," Ackerson said during Monday's press conference. "Apologies no longer work."
The probe will also examine the use of force by police during protests, as well as the death of Louisville restaurant owner David McAtee, who died in an officer-involved shooting during a June 1 protest.
During the protest, police officers and National Guardsmen used pepper balls to disperse individuals in violation of the city curfew. According to the Courier-Journal, then-Louisville Metro Police Chief Steve Conrad said that someone shot at those officers who returned fire.
The LMPD also released a video the following day from security cameras near the location of the shooting, as well as a camera inside McAtee's barbeque stand, which LMPD Maj. Paul Humphrey said showed that McAtee was the person shooting at the officers. According to the Journal, state officials investigating the case estimated that 18 shots were fired at McAtee.
He died from a single gunshot wound to the chest.
"They may be violating the curfew, but I don't know if that justifies being shot with pepper balls," David James, a former police officer and the president of the Louisville Metro Council, said of the protesters, according to the New York Times.
The probe into the mayor and his administration will allow the Metro Council to call for testimony and review important documents relating to Fischer's handling of Taylor's case and its aftermath, which includes McAtee's case, Ackerson and Piagentini said.
The investigation is not meant to build a case for Fischer's resignation, Ackerson said. But findings from the council's probe will be made regularly available to the public.
"You, the community, will have the information as we're having it. As we're discussing it," Ackerson said. "The days of hiding the ball in this town, those have to stop."
The Metro Council's review adds to the probes already launched by the FBI and Kentucky's attorney general into the Taylor case.
Porter said that Fischer had already ordered a "top-to-bottom" review of the LMPD and a separate review of its actions relating to the Taylor case.
"And to be clear, he is not waiting on any of those reviews to make changes, as evidenced by his decision to ban no-knock warrants, to require broader use of body cameras and replace prior leadership at LMPD," Porter said.
Fischer fired Conrad just hours after McAtee died when he learned that the officers who fired their weapons did not have their body cameras turned on.
"This type of institutional failure will not be tolerated," Fischer said.
Newsweek contacted Fisher's office but did not receive a response in time for publication.