Louisville Police Chief Fired in Wake of Monday Shooting That Left One Dead During Protests
Louisville Metro Police Department (LMPD) Chief Steve Conrad was fired Monday after a shooting Monday left a local restaurant owner dead. The officers involved in the shooting reportedly did not have their body cameras activated during the time of the shooting.
The shooting happened as LMPD officers and members of the National Guard attempted to break up a group of demonstrators. David McAtee, the owner of Yaya's BBQ Shack, was killed during an exchange of gunfire. However, the police officers involved in the shooting did not have their body cameras activated.
"That lack of institutional failure will not be tolerated," Louisville Mayor Greg Fischer said during a Monday news conference.
In his statement about the shooting, Conrad said after arriving at the scene, "officers and soldiers began to clear the lot and at some point were shot at. Both LMPD and national guard members returned fire."
An independent investigation of the incident by the Kentucky State Police was ordered by Kentucky Governor Andy Beshear. "My pledge is we will give you the truth," Beshear said Monday at a press conference, "no matter what the truth is, no matter what it makes any group look like."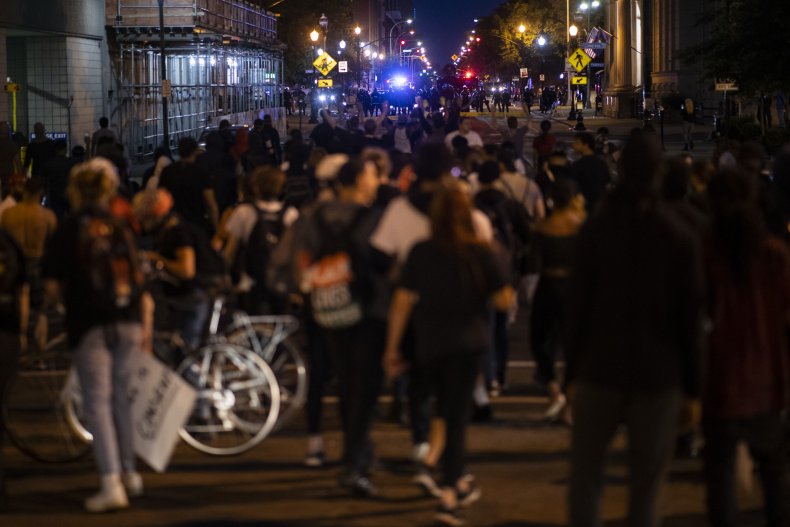 Two LMPD officers involved in the shooting were placed on administrative leave.
Newsweek reached out to Mayor Fischer's office and the LMPD for comment. This story will be updated with any response.
Louisville has been the scene of recent protests against the March death of EMT Breonna Taylor who was killed by LMPD officers while serving a no-knock warrant as part of a narcotics investigation. Taylor's partner, Kenneth Walker, believed the home was being invaded and fired on the officers. The officers shot back, hitting Taylor at least eight times. No narcotics were discovered in Taylor's residence.
Conrad announced his retirement from LMPD effective at the end of June after Taylor's shooting, which engendered outside investigations at both the local and federal level. Civil rights attorney Ben Crump, who is representing Taylor's family, said at the time that Conrad's retirement was a "significant step forward in getting justice" for Taylor and her family.
"It is our expectation that the next Chief of Police will be someone who wears the badge with honor, moves the police department forward, and nobly protects and serves the residents of Louisville," Crump wrote in a May statement.
In an attempt to quell demonstrations, Mayor Fischer enacted a dusk-to-dawn curfew on Saturday. Originally slated to last only for the weekend, the curfew has been extended until June 8.
Referring to the "underlying frustration" causing the protests, Fischer said Saturday that "structural change must happen. But it is not going to happen with violence and destruction."