The attorney for Sergeant Jonathan Mattingly of the Louisville Metro Police Department (LMPD] said on Wednesday that the "system worked" after a grand jury decided no criminal charges would be filed against the officers involved in the fatal shooting of 26-year-old Breonna Taylor.
In an email to Newsweek, Mattingly's attorney, Kent Wicker, wrote that "the grand jury's decision to not indict Sergeant Mattingly or Detective [Myles] Cosgrove shows that the system worked and that grand jurors recognized and respected the facts of the case."
Wicker added, "The death of Breonna Taylor is a tragedy. But these officers did not act in a reckless or unprofessional manner. They did their duty, performed their roles as law enforcement officials and, above all, did not break the law."
Wicker's statement came shortly after a grand jury in Kentucky announced the indictment of Louisville police officer Brett Hankison, who was charged with three felony counts of wanton endangerment in connection with the March 13 raid on Taylor's building.
That night, several LMPD officers executed a "no-knock" search warrant at the home of Kenneth Walker, Taylor's boyfriend, and fired their weapons inside, killing Taylor. During the raid, Mattingly was shot in the leg. He has been on administrative leave since the incident.
Mattingly and Cosgrove were not charged. Speaking during a Wednesday press conference, Kentucky Attorney General Daniel Cameron said that the officers were "justified in their use of force."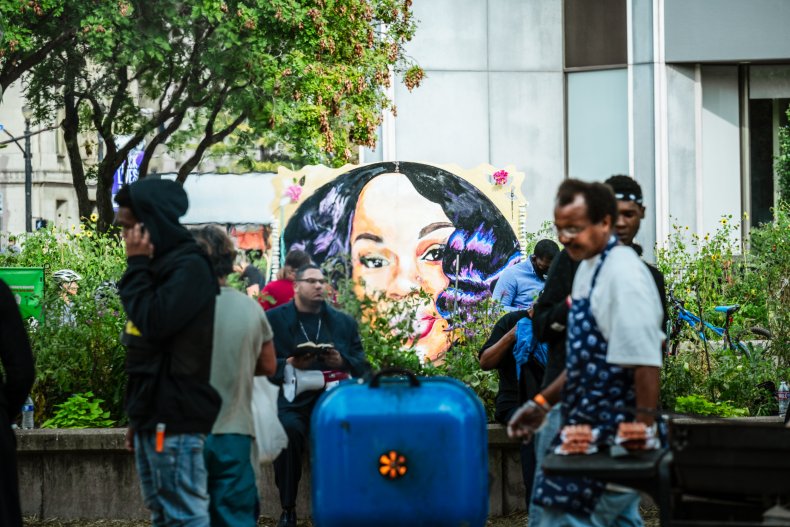 "The decision before my office is not to decide if the loss of Breonna Taylor's life was a tragedy," Cameron said. "The answer to that question is unequivocally yes."
Cameron also said he knows "that not everyone will be satisfied" with the outcome but noted that "our job is to present facts to the grand jury, and the grand jury then applies the facts."
"If we simply act on outrage, there is not justice," Cameron added. "Mob justice is not justice. Justice sought by violence is not justice. It just becomes revenge."
Just a day before the grand jury's decision, Mattingly sent a lengthy email to over 1,000 of his fellow officers, criticizing Louisville Mayor Greg Fischer and former LMPD Chief Steve Conrad for their response to the shooting.
"I'm sorry the Mayor, [Chief of Public Safety] Amy Hess and Chief Conrad failed all of us in epic proportions for their own gain and to cover their asses," Mattingly wrote in the email. "You DO NOT DESERVE to be in this position. The position that allows thugs to get in your face and yell, curse and degrade you. Throw bricks, bottles and urine on you and expect you to do nothing. It goes against EVERYTHING we were all taught in the academy."
Towards the end of the email, which was obtained by Vice News journalist Roberto Ferdman, Mattingly defended his actions during the incident. He wrote, "Regardless of the outcome today or Wednesday, I know we did the legal, moral and ethical thing that night. It's sad how the good guys are demonized, and criminals are canonized."
Newsweek reached out to the LMPD for comment but did not receive a response in time for publication.