'Take Back Louisville' Rally Held As City Suffers Record Number of Killings
Activists carrying American flags rallied in Louisville, Kentucky, on Saturday in a bid to support law enforcement as the city suffers a record number of killings.
The 'Take Back Louisville' group saw several dozen members march across Jeffersontown to encourage and support local police officers.
"We want to start a movement!" Louisville resident and group board member Rhonda Palazzo wrote over Facebook ahead of the rally.
"We need to encourage our Police. Would everyone wave to your policemen when driving, shake their hand and thank them for their service, buy their lunch or dinner and then share it with us," Palazzo added.
The impassioned group began the morning with a prayer before meeting at noon to rally in Veteran's Park, WDRB reports.
Photos showed some carrying American flags while others held patriotic signs as the group marched down Jeffersontown city streets.
The group's website states its members are a community of concerned citizens who support the police and believe the "right leadership is essential to take back Louisville from those trying to steal it".
"We motivate those around us to take the proper action to promote Peace, Prosperity, and Patriotism," a description reads.
The group encouraged those to join in on their self-described 'Thank A Police Officer Day.'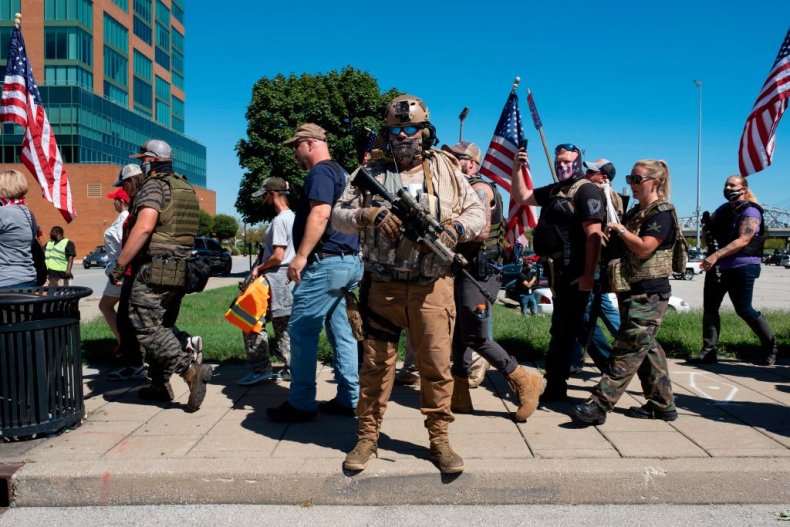 Louisville stung by Breonna Taylor's death and a record homicide rate
The city's police forced has been under fire this year after the death of Breonna Taylor, a 26-year-old African-American medical worker who was killed by police in March when officers executed a no-knock search warrant at her home.
Her death, coupled with that of George Floyd, sparked widespread protests across the country and led to the city settling a wrongful death lawsuit with Taylor's family for $12 million and commit to instituting several reforms to policing practices.
The financial settlement and police reform comes as the city is plagued with the worst homicide rate in its history. 121 people have been killed in Louisville this year alone, the city's deadliest year to date, WLKY reports.
The number surpasses the previous 2016 record of 117 homicides and with three months still left in the year, it is anticipated to rise again.
Micheshia Norment, the mother of Dequante Hobbs, the 7-year-old boy killed by a stray bullet in 2017, spoke to the publication about the rise in gun violence.
"People are taking advantage of carrying guns. Their attitude with a gun gives them the mindset that they are not afraid. So, the law needs to be changed," Norment said.
"If the laws don't change then nothing is going to change. Our generation is flopping more than the older generations. For real, it's supposed to be the grandparents that fall off. Then the parents, then the children, the children's children.
"They going before we going. We can't say anybody's lives matter if we are not correcting that type of mentality in our own brain cells".
In August alone, more than 20 people were killed in Louisville and another 17 have been murdered in September so far.
Newsweek reached out to the group 'Take Back Louisville' but did not hear back by the time of publication.