Louisville Protesters Throw Brick Into Car Windshield of Local Camera Crew
A news crew covering protests in Louisville, Kentucky, on Monday was targeted by demonstrators, one of whom threw a brick into the windshield of the crew's vehicle.
A reporter with local news station WLKY captured the incident on video and posted it on Twitter. According to Shaquille Lord's tweet, he and his crew were preparing to leave an area where they'd been covering protester activities when the demonstrators turned their attention to the reporting team.
"Our crew just got attacked as we were trying to leave," Lord said in the tweet, adding that no one on his team was injured. "I can tell you things are definitely not peaceful in the downtown area today."
Earlier tweets by Lord showed the camera crew observing protesters as they created roadblocks out of construction signs and stood in the middle of an intersection holding signs of their own. Though a couple of cruisers with the Louisville Metro Police Department arrived at one point to remove the roadblocks, Lord documented the protesters quickly replacing the obstructions moments after the officers drove away.
Later on, the demonstrators could be seen in Lord's video yelling at the camera crew to leave. One protester, a young white man, circled the reporters' vehicle with a brick before throwing it at the windshield, causing the window to crack. The video ended with the crew safely inside the vehicle, quickly driving away.
The station did not respond to Newsweek's request for comment in time for publication.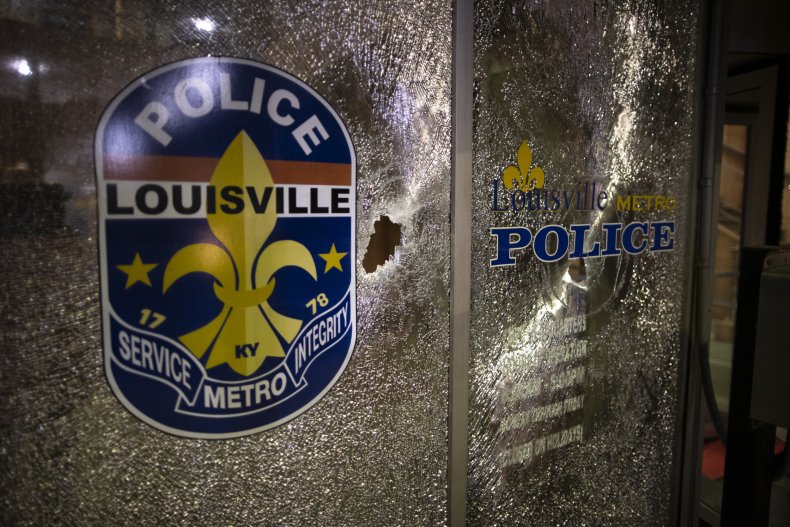 According to WLKY, nine protesters were arrested Monday and more than 180 demonstrators have been arrested by local police since the protests began in response to the death of George Floyd, a black man who died while in police custody in Minneapolis on May 25. A report by the Associated Press estimated more than 10,000 protesters were arrested nationwide by the first week of June.
Though the protests began in the wake of Floyd's death, other black Americans who have died following interactions with police quickly became incorporated into the widespread protest movement. In Louisville, protesters have demanded justice for Breonna Taylor, a 26-year-old woman who was shot to death by police while inside her apartment in March, and David McAtee, a 53-year-old restaurant owner who was killed in a gunfight between protesters and law enforcement on June 1. The deaths of Taylor and McAtee occurred in Louisville.
Monday's confrontation between demonstrators and the Louisville camera crew marks just one of many times in which reporters have been threatened or injured while covering the protests. Though protesters have targeted reporting teams in other cities, most of the journalist injuries documented thus far have resulted from interactions with the police. While some reporters have been caught in the middle of tear gas deployments or rubber bullets fired by police officers, an analysis by Harvard University's Nieman Journalism Lab found many were purposefully targeted by law enforcement.