Kentucky's Amy McGrath appeared to be a shoo-in to challenge Mitch McConnell for his seat in the Senate. But amid national unrest and a growing racial-justice movement, the state's youngest black legislator Charles Booker has become a breakout candidate in the Democratic primary.
Louisville, Booker's hometown and legislative district, has been the center of the state's response to police brutality and racism following the deaths of two black residents: Breonna Taylor, a 26-year-old EMT who was shot by police and killed in her own apartment, and David McAtee, a restaurant owner who was also killed by law enforcement.
Demonstrations have since fanned out across the conservative state, stretching to rural towns and largely white communities. The immediate result has been a major shakeup in the state's Democratic Senate race just weeks before a primary that will affect Senate Majority Leader Mitch McConnell's chances of winning a seventh straight term.
"There is a lot about this moment that none of us have seen in our lifetimes," said Carla Wallace, a founder of the activist organization Showing Up for Racial Justice. "I do think that the wake-up call that has been brought to us by our black communities is impacting way beyond Louisville, way beyond."
Booker's visibility at Black Lives Matter protests in his home city pushed him into the spotlight. When a National Guard member shot McAtee on June 1, it was Booker who was on the scene as McAtee's body lay outside for almost 14 hours while police investigated. He spoke through a megaphone, urging people to remain calm.
"Booker was out there keeping the peace," said Cassia Herron, board chair at the grassroots organization Kentuckians For The Commonwealth. "He was the only one feeling our pain, sharing our pain."
It remains to be seen whether Booker's last-minute surge will be enough to overtake McGrath during the June 23 primary, considering she is polling higher and has more cash on hand than all of her rivals. She's also done this before. In 2018, she fell just 3 points behind Republican Andy Barr for a seat in the House of Representatives in what was one of the most-watched races of the election cycle.
But the latest developments have split leaders of the Democratic Party on who to support and has led to major spending by both candidates in the final days of the primary.
Senate Minority Leader Chuck Schumer (D-N.Y.) emphasized earlier this week that McGrath "is our candidate; she's a strong candidate." When she launched her campaign in July 2019, she was immediately backed by the Democratic Senatorial Campaign Committee. Meanwhile, Senators Bernie Sanders (D-Vt.) and Elizabeth Warren (D-Mass.) as well as Representative Alexandria Ocasio-Cortez (D-N.Y.) have broken with the party ranks and came out in support of Booker over the past week.
The sudden competitiveness of the race is evident by the millions of dollars both candidates are pouring into this final week leading to the primary, though McGrath is spending way more than Booker. According to the political ad tracker Medium Buying, she's spent at least $3 million on television and radio advertising in the final week and is close to spending $10 million overall in this primary. Booker has purchased just two statewide ad buys, costing him just more than $1 million.
While there has been no public polling of the primary race, an internal poll conducted and released by Booker's campaign showed him 10 points behind her. But in general election surveys, McGrath is the one shown neck and neck with McConnell.
But activists say maybe it's time to put up a more progressive candidate against McConnell after many unsuccessful challenges from moderate Democrats who moved to the middle to appease conservative voters. Wallace, from SURJ, argued that "Amy or others will just bring more of the same—they won't win, they just cannot win. We've done this before." Herron from Kentuckians for the Commonwealth said Booker was the only one who could "electrify the electorate."
Virginia Woodward, the vice-chair of the Louisville Democratic Party, said she believes this election "will bring out a lot more progressives who haven't quite made up their minds about getting actively involved... I think there is no turning back."
When asked by ABC News on Thursday if she's worried about losing progressive support to Booker, McGrath said she's "not part of the political establishment" and that she's "proud to get the support from regular Kentuckians in all 120 counties" who ultimately want to see McConnell dethroned.
Dewey Clayton, a political science professor at the University of Louisville, said he sees Booker building a "multi-racial and multi-generational coalition."
"Everywhere around the city, I am seeing signs that say 'Charles Booker,'" Clayton said. "I do think that at this point, Booker may have a better chance in the general election."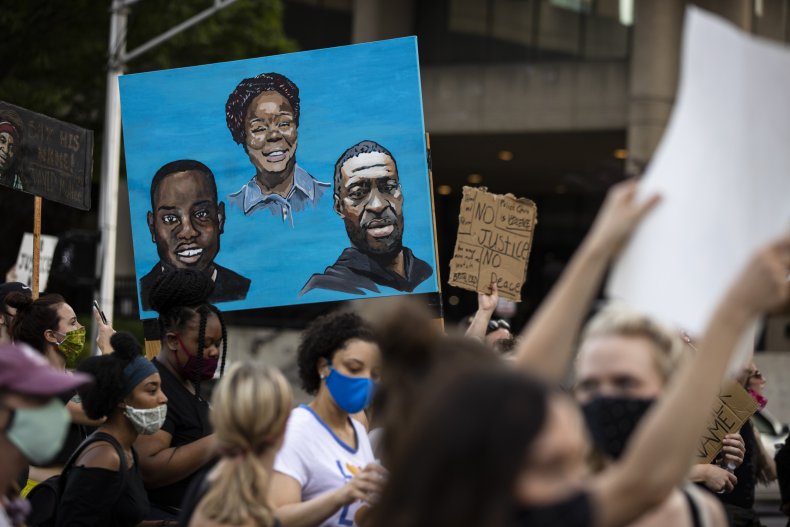 Still, Republicans consider McConnell safe—regardless of who he goes up against in November. And it's true he will be a tough opponent to beat, considering he's one of the most powerful lawmakers in Washington D.C. and President Donald Trump's close ally.
"Either way, McConnell will be just fine in a center-right state where Trump is going to win 60 percent of the vote or more," said Scott Jennings, a Kentucky-based GOP consultant. He added that Booker's more progressive plans, like Medicare for All or the Green New Deal, aren't likely to go too far with constituents.
"Booker's clearly more talented than McGrath, but he would ultimately be selling an agenda far out of step in Kentucky in a general election," Jennings said.
At this point, the Senate leader is still seen as favored to win in November. Nonpartisan election forecasters like The Cook Political Report and Sabato's Crystal Ball still rate the race as "likely Republican."
But the racial-justice movement has extended far beyond Kentucky's urban enclaves like Louisville and Lexington and into rural communities across the state. In Marshall County, where the population is 0.2 percent black, more than 300 people participated in a Black Lives Matter rally.
"A lot of 'firsts' are being made here. We have been very shocked at the amount of support," said Hope Davis, the organizer of the march in Marshall County. Davis has put together several events since, including the county's first-ever Juneteenth education rally on Friday.
"People are willingly becoming much more educated on the subject of race issues and they want to be able to take a stand and do something about it," she said.
McConnell, perhaps seeing this shift, has broken with President Donald Trump on specific aspects of police reform and racial justice. Earlier this week, he said he didn't mind removing Confederate names from military bases after the president denounced the idea. And while McConnell originally said a police reform bill wouldn't be considered in the Senate until after July 4th, he announced Wednesday the chamber would vote on it as quickly as next week.
Jerome Bowles, president of the Northern Kentucky NAACP, warned against national leaders simply paying lip service to issues of police brutality or racial injustice. Such action, he said, would likely have consequences as the Black Lives Matter movement continues to grow.
"People are not only watching, they're engaged," Bowles said. "They're going to see this whole process through, not only until the election but beyond the elections. That's where the energy is right now. We're a long-term commitment. This movement defines that we are in it for the long haul."