France Is Trying to Make Good on Macron's Plan to Return African Artifacts
Cultural artifacts that once belonged to African nations may soon leave their current placements in France and head back to their native lands. France's government on Wednesday introduced a new draft law that calls for the return of various items taken from African nations—including Senegal and Benin—during the colonial period.
Among the items being considered for the transfer in ownership is a saber that France's former Prime Minister Edouard Philippe loaned to Senegalese President Macky Sall back in November. The saber, according to Associated Press, is believed to have belonged to people who fought with El Hadj Omar Tall, a 19th-century military leader and Muslim scholar who once ruled lands that are now considered Guinea, Senegal and Mali.
Should the draft law be accepted as legislation, Senegal would own the saber. Additionally, 26 relics that French colonial troops stole from a palace in the West African country of Benin in 1892 would also be returned. Those artifacts have been held at Paris' Musee Branly-Jacques-Chirac.
While the draft law does not appear to directly affect any items kept at the Louvre Museum, that institution is reportedly against the returning of African artifacts, according to the Associated Press, and has been since French President Emmanuel Macron first announced the intention to return various sculptures and artifacts back in 2018. One of the biggest arguments among the opposition, which also includes London's British Museum, is that returning artwork and artifacts would essentially open a pandora's box and lead to emptied-out European museums.
Newsweek has reached out to the Louvre for comment, but did not hear back in time for publication.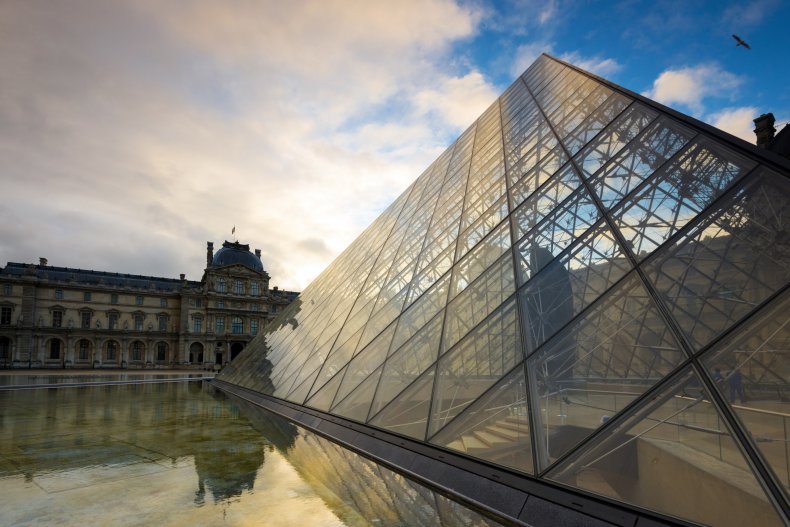 However, returning artifacts back to their rightful countries isn't necessarily a notion the Louvre is unfamiliar with. In 2013, the museum returned seven paintings that were taken from Jewish owners during the Holocaust. Artwork looted by Nazi troops in the 1940s was intended to fill an art gallery that Adolf Hitler planned to build, but the pieces were dispersed across museums in Europe at the end of World War II. Four paintings found a home at the Louvre; however, after being validated by the French government, they were returned to the families of the original owners, the BBC reported.
The conversation surrounding the placement of African artifacts and whether or not they belong in European museums is expanding, and some countries have already begun transferring artwork that was taken from African nations back to their native country. A 15th-century rock sculpture known as the Stone Cross was returned to Namibia from Germany in 2019, and that same year, the National Museum of World Cultures—comprised of museums in Amsterdam, Leiden and Nijmegen—took steps to repatriate colonial-era artifacts taken from Sri Lanka.
Despite the pushback from bigger art institutions in France, some museums have already made efforts to return relics. In 2006, the French museum Quai Branly let the Beninese museum Fondation Zinsou borrow a collection of wooden statues and furniture that originally came from Benin.